Introduction
Choosing the best airsoft mask should be one of your top priorities. We have compiled a list of the best airsoft masks around, taking the most important factors and features into consideration. 
A good airsoft mask won't just protect your face. It should also be fog-resistant on rainy days. So you don't need to pull up your mask every time you breathe into it. As important as the aspect of aiming down your sights – some face masks won't let you do that comfortably (ironically, those tend to be the safest ones around), others will give you the freedom to rest your cheek on the buttpad of your gun.
In any case, you must make some sacrifices depending on what's more important to you. Nevertheless – we're here to help you make your choice.
If you're new to airsoft (or looking for inspiration), check out our article for the best airsoft rifles for beginners.
At a glance:
Best overall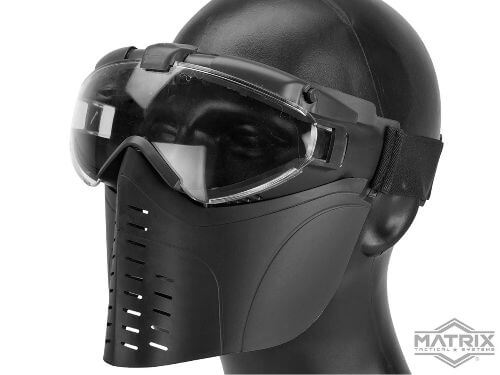 Best for Aiming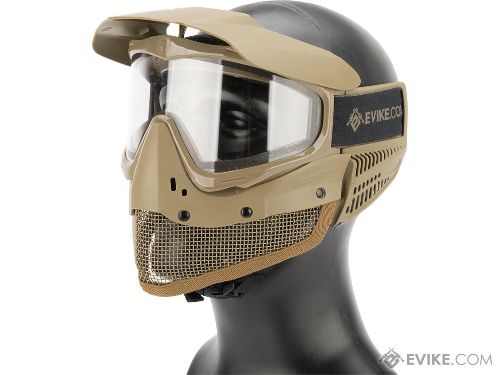 Best Value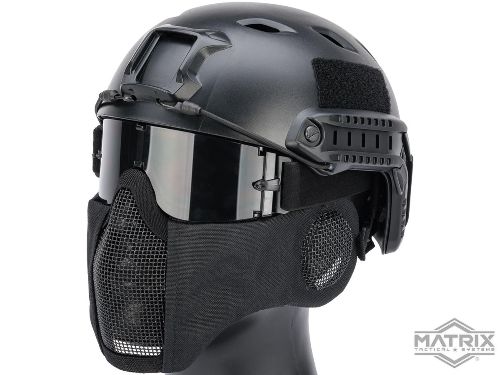 Also, consider these airsoft masks:
5 Best Airsoft Face Masks Reviewed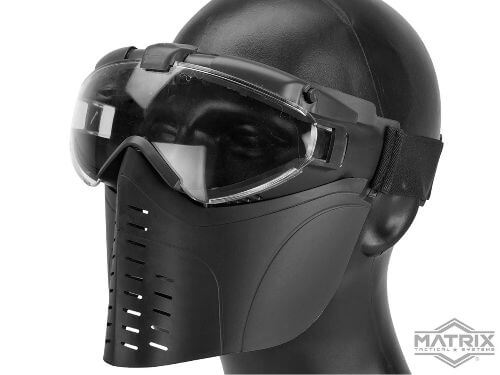 Developed by the company Matrix, this full-face airsoft mask is a high-quality and affordable mask. It has a full face covering with an inbuilt high-powered blower fan to prevent fogging.
It also has a wide lens for enhanced peripheral view with a rubber eye surround to make you more comfortable. It features an innovative design that is easily compatible with most eyeglasses.
It comes with an adjustable elastic head strap that can fit most head sizes. With its QD buckle, you will find it easier to remove. Its polycarbonate lens is also removable, so you can replace it if damaged.
It features:
An inbuilt high-power motorized fan to stop fog and enhance ventilation. 

It is made with a high-quality polymer to improve safety and keep it lightweight. 

It features a polycarbonate lens with UF 400 and Anti-Fog protection. 

It has a wide lens for improved peripheral vision. 

It uses two AAA batteries to power up. 

Pros
It is lightweight.

It has fog protection.

It is portable.

Low profile design that is scope or optics-friendly.

Cons
No ear protection.

Not ANSI rated.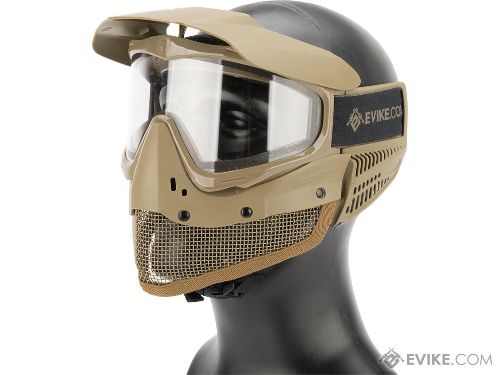 This airsoft tactical mask results from a collaboration between Tippmann Tactical and Evike.com. It is often regarded as one of the most comfortable airsoft tactical masks on the market.
It offers excellent face protection with a special molding technology, giving it a strong upper section. This helps ensure maximum eye protection and provides a strong lower mesh for enhanced safety and comfortability. 
It features a Spectra lens with enhanced optics, a 260-degree view fog protection, and dual-pane construction. It works perfectly with soft earpieces and detachable visors.
The mask provides protection with the mesh bottom found on the jaw side. This is specifically designed to enable precise voice transmission and improved team communication.
This lower mesh bottom is also used to prevent fog and enhance breathability. It is considered to be the best airsoft mask for aiming.
It has a Spectra Lens for enhanced vision and fog protection. 

Rubber ears.

Detachable visor. 

Adjustable strap.

Thermal lens.

Pros
One size fits all.

An adjustable Strap and Rubber ears make it very comfortable.

ANSI rated.

Lightweight and durable.

Cons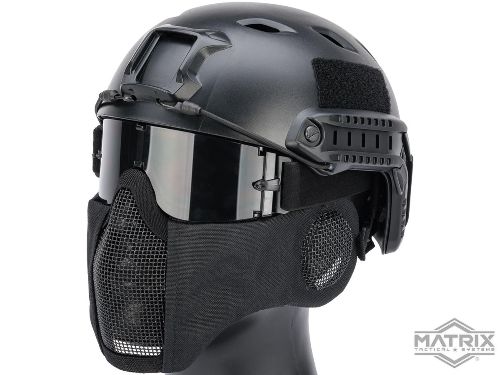 Also developed by Matrix, this airsoft mesh mask is said to have the best value because it comes with advanced features while maintaining its affordability.
This is why it is one of the best cheap airsoft masks around. Its interior is lined with mesh to enhance breathing. It features a ballistic nylon exterior for uncompromised protection from BB impact. It also has steel mesh nose and mouth protection for better ventilation. 
The Interior is lined with mesh to improve breathability.

Ballistic nylon for the exterior. 

It features a steel mesh mouth and nose guard.

It comes with built-in ear protection. 

Pros
Steel mesh mouth and nose guard provide great ventilation for the nose and mouth. 

It features an adjustable head strap.

Its mesh-lined interior makes it very comfortable to use. 

The mask does not muffle the sound, so communication is clear. 

Cons
It is not very useful for players using radio and headset because the ear protection prevents its use. 

Mesh cannot be molded, which may hinder comfort.

Does not cover the entire temple area.

It's not a one size fits all.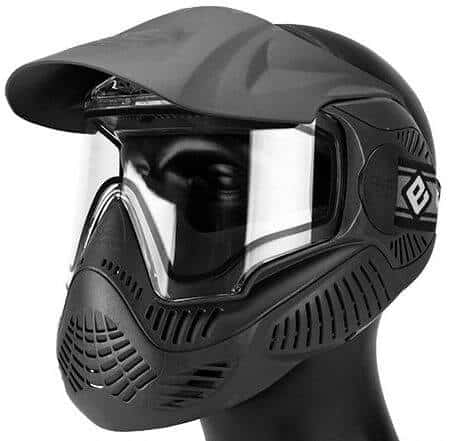 A collaboration with Evike.com brought another great addition to the list.
It is an affordable full-face airsoft mask with advanced features. It was designed to be durable enough to withstand the effects of any level of airsoft play.
It features a head strap that can be easily adjusted to make you more comfortable. It is considered one of the best airsoft masks for glasses on the market. It also has a double-pane lens with a thermal design to ensure enhanced eye protection. It features;
It has a double-pane lens with a thermal design.

It has polycarbonate construction with fog and scratch resistance.

It has 160-degree vertical and 260-degree horizontal vision, which provides a great peripheral view, enabling you to see movements on your sides just like you would without a mask. 

Premium micro stitch strap for improved durability and elasticity. 

High-density injected polyethylene for greater durability. 

Pros
It features a double-layer foam protection for impact absorption, comfort, and sweat-wicking. 

It has great fog and scratch resistance.

It has full ASTM and CE certification with ANSI ratings. 

It has enhanced ball deflection and shade. 

It can be used with most eyeglasses. 

Cons
The spot just under the lens makes it difficult to aim down directly. can be difficult to aim down directly.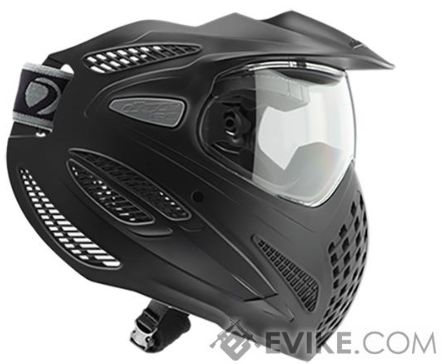 The newly introduced DYE SE Goggle is a lightweight airsoft mask with the exclusive Switch Lens System (SLS). This new thermal lens promises improved fog protection and an easily replaceable lens.
It features a polished, one-piece durable construction design with an integrated visor to ensure safety during plays. It also has minimized glare and anatomic fit. It is generally considered to be one of the best airsoft masks around.
It has a dual-paned, thermoformed interior lens for fog protection. 

Switch Lens System for 260 peripheral vision.

It has multi-ported earpieces for easy communication with teammates. 

Unidirectional ventilation. 

Integrated Visor.

Pros
It is very comfortable due to the presence of superior comfort foam.

ASTM F1776 and turnbuckle.1 rated

Enhanced Fog protection.

The exclusive 1/4 turn buckle quick change lens provides an easy and quick replacement of the lens.

Cons
It is not compatible with most googles. 
Buying Guide – What You Should Consider When Choosing an Airsoft Mask
Due to the wide range of airsoft mask options on the market, it can be challenging to choose the best one. Here are some factors you should consider when choosing an airsoft mask;
Area Rules and Field Regulations
Some states and fields often have their own rules and regulations regarding airsoft. Some of these rules can affect the standard of airsoft masks you should consider. This means you have to check out the requirements for the protective gear set by the field. For instance, most fields require players to wear airsoft masks rated by ANSI. This implies the masks should have ballistic lenses with full seals. 
Always check the requirements your game organizer sets to determine if they require any certification for your mask. The best mask should be able to protect the eyes from BB hits. 
Face and Eye Protection
The face is the most important part to protect in an airsoft game. If a BB hits the eye directly, it can cause some damage. So, if you are going for an airsoft mask, choose one that guarantees the protection of your eyes and face. This will help prevent permanent damage and improve focus on the games. 
If you choose an airsoft mask that is too heavy or doesn't attach comfortably to your face, you might get distracted trying to readjust it to make it as comfortable as possible during the game.  
Comfort
Airsoft is an intensely physical game that can last from a few hours to days. Since you will not be allowed to take off your gear during most of this period, you should consider comfort and fit when choosing a mask. While many masks come in a one-size-fits-all, you still need to verify the precise parts of the face the mask covers. Also, some full-face masks can be adjusted to fit the form of your face with an adjustable strap. 
You should also ensure that the material used in the mask's construction does not irritate your skin. The mask should fit you properly without any need for constant readjustment. Choose a mask that will not leave bruises and scars on your face if worn for long durations. In this case, you should check for features like adjustable straps and comfort foam.
Materials
Plastic and steel wire mesh are the most widely used materials for constructing airsoft masks. Each material has advantages and disadvantages, but you must choose one to make this easier. 
Masks made with plastic are known for their lightweight and great durability. This means you can be assured that BBs and debris will not get through. However, ventilation for plastic masks is bad, and every hole created for air opens a spot for fragments. They are also great for impact absorption, so you will feel BB hits less. 
Airsoft masks made with Steel wire mesh are known for their breathability and ease of use. However, it is not a solid surface, so that small debris can get through. So, when you are going for wire mesh masks, go for the ones with padded interiors.
Ventilation
Ventilation is a very important factor to consider when choosing an airsoft mask. When running around, you easily get hot, and breathing becomes more rapid.
Without proper ventilation, in this case, you will have trouble breathing due to insufficient flow of air. This is why choosing a mask with great ventilation is necessary. Choose a mask with vents for the proper exchange of air.  
Common types of ventilation found in airsoft masks include unidirectional ventilation and high-powered motorized fans. 
Durability
As we mentioned before, airsoft is an intense physical activity. So, you need a mask that will be strong enough to withstand the wear and tear of such a game. That is, the mask should be able to withstand constant BB shots without breaking and leaving you unprotected. Choose a mask made from durable materials like plastic or steel wire mesh. 
Anti-Fogging Feature
Fogging of masks can mess up your vision during a game. It occurs when moisture accumulates inside the goggles and condenses on the lens. Choosing a face mask with great anti-fog features like polycarbonate construction, dual paned thermoformed interior lens, Thermal Lens, and Spectra Lens is important to help you play the game for long durations. 
Type
The two main types of airsoft masks are full-face masks and half-face masks. Before choosing one of these, you must determine if you will play close quarters or outdoors. 
A full mask is an ideal choice when playing indoors, close quarters, since you would be dealing with BBs traveling at high speed. It offers more protection for your face in this case. You would also rely less on aiming, so there is little to no need to customize the mask goggles for aiming. 
However, if you are playing outdoors, a half mask with goggles is a great choice because you can easily customize it to suit your preference. This is a great idea, especially if you are a sniper who would like to customize your vision for easier aiming by going for specific types of goggles. Half mask with goggles is the shape of the mask that is best for aiming. They are also easy to customize.
Frequently Asked Questions
Are airsoft mesh masks safe?
Airsoft mesh masks are fairly safe, but debris from cheap BBs or a close-quarter BB shot can enter the mask and harm the player. If you consider mesh masks, you can use extra eye protection like goggles and eyeglasses.
Are paintball masks safe for airsoft?
Paintball masks are generally considered safe for airsoft. They are rated to take greater impact than a typical airsoft mask.
What is the best mask for aiming in airsoft?
The best airsoft mask for aiming is the Evike Tippmann Tactical Mesh Full Seal Airsoft Mask with Fog Resistant Thermal Lens. It features a Spectra Lens for enhanced vision and fog protection and a thermal Lens as an anti-fogging feature.
How do I prevent my mask from fogging?
One of the most common ways to prevent fogging of goggles is by using Anti-Fogging products like anti-fog solutions sprays and wipes.
Another common way is using soap: rubbing bar soap on the lens, then cleaning it with a dry cloth or using a dish soap-water solution to clean the inside of the lens, then drying it fully with a clean cloth to remove any residue left.
However, buying a mask with great anti-fogging features is the best choice. The best anti-fog airsoft mask is the DYE Precision SE Goggles.
Can I wear an airsoft mask with glasses?
There are a lot of airsoft masks that support the use of glasses. You should check to see if the mask you are considering supports glasses.
Conclusion
While looking silly and not comfy, full-face mesh masks will provide the best protection for your full face and eyes. That said – they look bad on you. No matter what mean-looking black tactical clothing you're wearing, what gun you're holding, and the fact that your teammates call you The Destroyer. If you are a beginner – buy it. You'll feel safe, protected, and will. be able to move around well enough.
Other face mask types will protect you well enough and will look far better. Two-piece face masks (separate protection for your mouth and eyes) will allow you to aim much better than the clumsy full-face mesh mask.
Plastic masks with integrated goggles, while not as good for aiming as two-piece masks, can still be good for aiming. The goggles there will have anti-fog features, so you won't have to risk uncovering your face for a BB hit mid-game to wipe your glass. Masks with integrated ventilators will do the job constantly for you.