Looking for the best airsoft spring sniper rifle? Interested in owning an accurate and high-power airsoft sniper? Here is an excellent guide to help you make an informed decision. This guide explores the top-rated airsoft long-range guns, their features, and specs, pros, and cons.
Read on to get unbiased info on how best to shop for high-performance, durable, and affordable sniper rifles. The post also delves into the accessories and upgrades required for the optimal functioning of these rifles.
Also, check out our article on the best airsoft sniper rifles out there – not only spring-powered. 
Here are some of the best airsoft spring sniper rifles to consider for your airsoft outings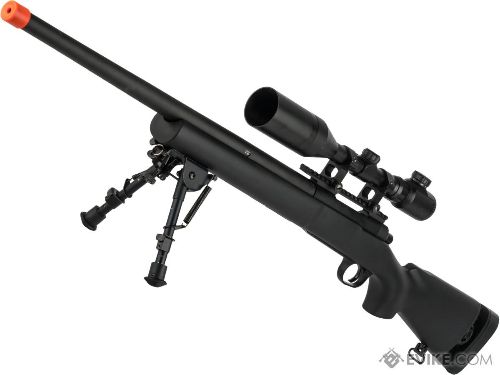 The Mod24 USR150 is a Taiwanese-made airsoft rifle that relies on finesse rather than brute force to take down any threats it may come across.
It comes with enough features to impress even the most knowledgeable and experienced marksmen – from rear sling loops and front bipod mounts to an adjustable stock and extended barrel!
Its durable aluminum exterior offers protection from the environment and its medium-sized hop-up for more precise shooting. The model has an excellent firing range. Truly, this gun is worth every penny spent because you get what you pay for! Its core features are:
Features:
Has a wide metal trigger for easy fine-tuning
Has a reinforced polymer stock
Comes with front and back sling loops, bipod mounts, and adjustable stock
The rifle has a durable aluminum exterior barrel
Has a metallic reinforced piston and cylinder
It has a medium-sized adjustable hop-up
Rifle bears integrated optics mounted on a Picatinny rail
The magazine is lit up by LED
the rifle's FPS stands at 430 to 450
Operates on bolt action firing system and is spring powered

Pros
Has a consistent shot power
Very reliable and accurate
Easily customizable
Very easy to transport
It is an attractive rifle with its non-reflective finishing
The metal reinforced parts make it extremely durable
Lightweight artifact weighing in at 3.5 kgs
Excellent value for your cash

Cons
The gun is way too light. Requires a mounted optic to give it an ideal weight.
A bit hard to feed the magazine
Shining LED magazine, not a practical idea when one is trying to be stealth at night
2. WELL L96 – Best spring airsoft Sniper for beginners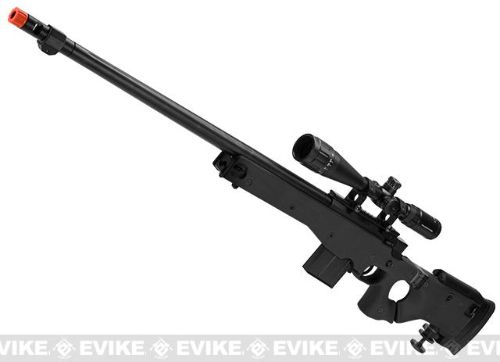 The Well L96 airsoft sniper rifle is lightweight despite having a reinforced polymer body and stock and easy transport. Its ergonomic handle allows for a comfortable grip – making it ideal for all conditions.
With spring-powered action that packs enough punch to take down opponents at large distances without sacrificing accuracy or power.
Optics are mounted on the 20mm metallic monolithic rails so that you can keep an eye out with no hindrance of any tools in your way.
Get set up quickly with a built-in monopod and bipod enhanced by its adjustable strap system that secures any position you want unmoving while you line up your shot. Comes with an ergonomically designed metal.
The L96 is an iconic rifle with attractive externals. It has a great solid feel and looks. Its accuracy and exceptional handling make it ideal for players of all experience levels. Here are its core features:
Features:
It is lightweight despite having a reinforced polymer body and stock.
It is very easy to transport.
Its ergonomic handle allows for a comfortable grip
It is spring-powered, making it ideal for all weather conditions
Has a built-in monopod and bipod for enhanced stability, especially when stationary
Its optics are mounted on the 20mm metallic monolithic rails.
It has an ergonomically designed metal bolt for easier follow up shots
The rifle has an FPS of 440

Pros
It is comfortable to use
Very durable
Very powerful
Best value for money
Easily upgradable

Cons
Complains of a lack of user manual with the replica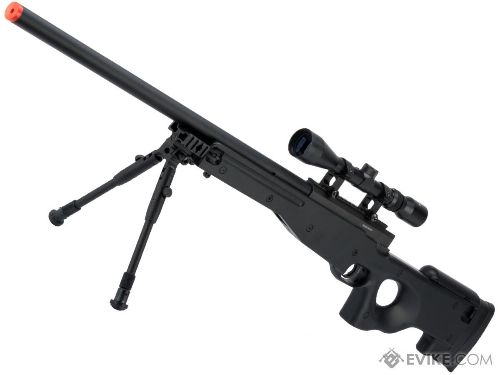 The Shadow Op MB01 Type96 also made the cut to our list of the best airsoft sniper rifles. It ships with a surreal aluminum exterior fused with quality polymer plastic and has near-perfect ergonomics for exceptional handling and raw performance.
The Shadow Op is here to meet the demand for a spring-powered airsoft sniper rifle that can deliver intense precision and good power on the battlefield.
The polymer stock, metal barrel adjuster, bolt upgrade – these are just some of many features that make this weapon an elite firearm. Like optics and rails, spare parts and upgrades are easily available as this is a very popular gun among airsoft players.
Features:
Most resistant polymer stock
Metal reinforced bolt and barrel
Top-mounted rail for attaching optics
Adjustable hop up for added comfort
20mm rail block that is easily detachable
Spares and upgrade parts readily available
It's a spring-powered single-shot or bolt-action rifle
The gun has an FPS of 400 to 450

Pros
It is a spring-powered rifle hence no need for batteries or gas
It is very cheap
Easily customizable
Has the best accuracy
Great scope
Durable, weather-proof design

Cons
The bipod is not as stable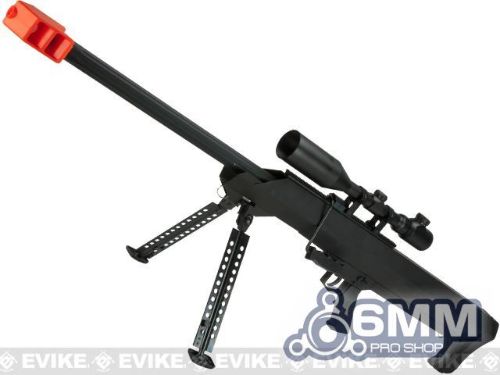 The M99 is the airsoft player's favorite. Barrett Firearms manufacturer designs this bolt action airsoft sniper rifle with a single shot function.
This iconic rifle has been featured in countless Hollywood blockbusters. It stands out with its simple looks, amazing accuracy, and unmatched firing power.
Barrett Licensed M99 is a high-quality realistic airsoft rifle. It looks and feels like the real deal. The metal gun has a realistic weight, perfect for those who stand by the most realistic airsoft replicas.
The gun has a patented bolt action mechanism, resulting in high accuracy and firing power with 450-500 FPS.
It features a detachable magazine, easy to operate trigger, and a comfortable handle. It also comes with fully integrated optics rails for targeting at different distances. A muzzle finishing for decreased sound with minimal kickback on every shot. And a precise hop-up adjustment system for long-distance shooting needs.
Features:
The metallic gun has a realistic weight
It ships with fully integrated optics rails
Has a surreal bolt action mechanism
Comes with a detachable mag
The M99 has excellent accuracy
It has a great finishing on the muzzle and stock
The airsoft rifle has simple controls.
Comes with an easily operated trigger and a comfortable handle
It has an FPS of 450 to 500

Pros
The M99 delivers a reliable and high-grade performance
Readily available and inexpensive parts and accessories
Very comfortable handling

Cons
The M99 rifle releases plunger ejectors making it less comfy
It is a heavy rifle
5. ARES M40A6 – Best Value for Money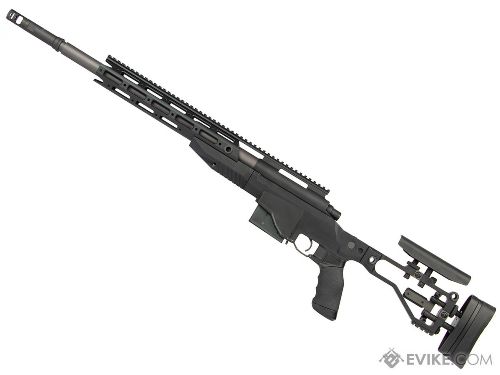 The ARES M40A6 is yet another legendary airsoft spring sniper rifle with a w scope replica.
This rifle has evolved over the years to keep up with the changing tech and growing consumer demands. Today, the ARES M40A6 has the features to ensure it lands a spot among the best airsoft spring sniper rifles.
It has a full-length metallic rail system for easy adjusting to any target, comes with an adjustable and foldable stock, has a 20 mm full-length Picatinny top rail compatible with various optics, and much more.
On top of this, the 400 FPS firing range can be easily adjusted with its high-powered spring system and bolt action firing mechanism.
Made out of resilient materials like steel and polymer composite parts, so you can pin down enemy players from an impressive distance without worrying about what might happen when things get messy on the battlegrounds.
With its reactive trigger design as well as compatibility with most gas spray systems, your accuracy will never go unnoticed.
Features:
It has a full-length metallic rail system for easy adjusting
Excellent ergonomics like a comfortable pistol grip, an adjustable and foldable stock
Has a 20mm full-length Picatinny top rail compatible with a variety of optics
Very impressive firing range
Has an FPS of 400
Has a high-powered spring system and a bolt action firing mechanism
Comes with an adjustable hop-up

Pros
Incredibly resilient and durable
Very easily upgradable
Lightweight for added comfort
Ideal for all experience level players
Easy to transport

Cons
How to choose the best airsoft spring-powered sniper rifle
Choosing the perfect airsoft sniper rifle is not always easy. This decision calls on you to perform thorough research. As part of your research, ensure you go through as many user reviews as possible.
Do not let the costs alone influence your decisions. At times, it is best to cough a couple of extra bucks and walk away with a premium airsoft gun that will last a lifetime. Here are the prime considerations to ponder about when scouting for your new airsoft sniper rifle:
Quality above all
Get quality BB's
Learn about the specs, pros, and cons of each model
Go for products with extra features and plenty of available add-ons
Buy a rifle that matches your skill level
Compare different models for the best deals
Where will you get the necessary upgrades and accessories?
Practice with your sniper rifle before taking it out on a run
Gas-powered vs. electric vs. spring sniper rifles
Airsoft sniper rifles are powered by gas, batteries, or by springs. The powering technology has a huge impact on the overall performance of your airsoft gun. Let us briefly explore the pros and cons of each airsoft gun type to help you make better spending decisions next time.
Gas Powered Airsoft guns
Some of the best airsoft sniper rifles are powered by gas. The gas propels the BBs outward. These models are cherished for their enhanced power. Most of these guns are semi-automatic, but a few models are fully automatic. These models use green gases like propane, CO2, Nitrogen, or HFC134a refrigerant gases.
Electric Powered Airsoft guns
These are the most common types of airsoft rifles in the market. They work using batteries that can be recharged. Users have the option of being fully automated, semi-automated, or single firing modes.
The choice of the powering system determines the performance of your weapon. Here are the pros and cons associated with each type of powering mechanism.
Pros and Cons of Spring-Powered Airsoft rifles
Spring-powered sniper rifles pack in a lot of firing power. Most have an FPS of about 500. Airsoft snipers love this type of sniper mostly because it provides a much realistic feel to your gameplay.
This manual recooking would not work in close combat battle scenarios. You simply wouldn't have the time to operate the gun so that any self-respecting airsoft sniper will carry a secondary gun. Usually, airsoft snipers choose a pistol as their sidearm of choice. But any compact rifle will do the job, too, as long as you can easily carry it around with you.
Spring-powered rifles are easier to operate and are easier to fix should anything break.
Pros and Cons of Gas Rifles
Gas-powered rifles are cherished for their faster and more accurate shots. They mostly function in a semi-automatic firing mechanism. The propelled projectiles easily clock an average of 450 FPS.
Gas-powered sniper rifles often malfunction in cold environments. Additionally, you will not be able to fire once your green gas runs out. You will need to replace the empty gas bottle with a full one.
Pros and Cons of Electric Airsoft rifles
Battery-powered sniper rifles are the most popular option, especially for beginners. These replica weapons have the capability of reaching 500 FPS.
Rechargeable batteries save users a lot of money they would have otherwise used to continue powering the green-gas airsoft sniper rifles.
The electric-powered rifles exhibit a slight lag or delay between shots, however. Additionally, if you did not charge your batteries, they might run out in the middle of the game.
The maintenance costs of electric guns are recurring as you will be required to replace the batteries regularly.
Spring Airsoft Sniper Rifles
These guns use springs to propel the plastic projectiles at high speeds. The springs contain mechanical power that gets released when you cock your weapons. The bolt action releases the coiled springs, which in turn thrusts the BB's outward.
Upgradeability of spring sniper rifles
Whether you like it or not, at some point, you will have to replace the original springs on your best airsoft sniper rifles. Wear and tear cause the springs to malfunction over time. Alternatively, you can replace the default springs to improve the overall performance of your sniper rifles.
Upgrading Considerations
When you are upgrading the springs, consider the wire diameters, winding methods, number of turns, and the constituent materials of the springs. Ideally, you are interested in a sniper replica with readily available springs to avoid replacing the gun altogether once the original ones wear out.
Bolt action snipers – what those are and why it matters
Bolt-action sniper rifles are remarkable for their power, dependability, and accuracy.
However, the firing rate is quite low. Because you need to reload – pull back the bolt after each shot you take. For an inexperienced player, that means taking longer between the shots. And losing alignment when reloading.
These sniper rifles are remarkably easy to use and, therefore, ideal for beginners. Bolt action sniper rifles require little maintenance having no moving parts.
The Perfect FPV for an Airsoft Sniper Rifle
When you are shopping for an airsoft sniper rifle, it is in your best interests to consider the FPV. The FPV refers to the firing power velocity. The different types of airsoft guns have different FPV's. Ideally, you will acquire a replica with a firing power ranging between 300 to 500 FPS for optimal performance. The golden number stands at 400 FPS.
Best BB's for Your Sniper Rifles
BBs refer to the ammunition for your sniper rifles. BB's or Bearing Balls for airsoft sniper rifles are made of PLA, plastic, or polymer materials. They measure 6 mm on average. The best BBs are the standard and the biodegradable BBs. The best BB's weigh-in as from .12g, .20g, .23g, .25g, .28g, .30g, and .32grams. You can also get BBs weighing as much as 0.45 grams. The heavier BBs are ideal for long-range airsoft sniper rifles. Ideal BBs are easily fed into the magazines. Always go for BBs from reputable manufacturers for guaranteed top performances.
Best Accessories
Accessories make for a holistic and realistic airsoft gaming experience.
For best performances, always make sure you have the right sniper rifle on you and the right accessories. The commonly used accessories include adapters, bolts, barrels, cylinders, springs, stocks, triggers, and accompanying pistols, protective gear, and mounts.
Some manufacturers do not include accessories with the shipment, which means you have to cough up extra money to acquire them.
Our Verdict
Yes, there are 1001 different types of airsoft sniper rifles on the market. Every manufacturer claims their airsoft rifles to be the absolute best. Our first-hand experience has, however, revealed the Mod24 USR150 to be the all-time best spring airsoft sniper rifle.
Here is why. The lightweight Mod24 USR150 comes in a realistic finish, is durable, has the perfect firing power (450 FPS), and is easily upgraded. This rifle can always be relied upon for accurate and consistent shots.
Coming in second place is the iconic spring-powered Shadow Op MB01 Type96. This sniper rifle excels in categories such as price, performance, design, handling, and firing power (400 to 450 FPS). If you are just starting and kind of short on cash, I highly recommend this stylish yet powerful spring airsoft sniper rifle.