As a beginner, it can be hard to understand which are the best airsoft guns for beginners. There are so many things to consider, and so many things you're unsure of. When buying your first gun, you will need to decide whether or not you need an all-metal airsoft gun.
Do you also need it to have metal inner parts? Yes – if money is no object and you don't want to upgrade the gun yourself. No, if you're on a budget or if you want to upgrade your airsoft rifle later on.
Do you need an AEG or a gas-powered rifle? There are pros and cons to each. What is a good FPS for an airsoft rifle for a beginner? What is a hop-up and why do you need it?
To make it easier for you – we have researched the best airsoft guns for beginners, following airsoft enthusiast discussions and reviews left for over 150 guns out there and made a list of our Top5 contestants for this category.
Image
Product
Features
Price

Best overall

Overall Length: 760-840mm
Muzzle Velocity: 390~460 FPS
Magazine: 300rd, hi-cap
Gearbox Type: Version 2
Hopup Type: Yes, Adjustable

Check price on EvikeCheck on Amazon

Runner-up

Overall Length: 710-790mm
Muzzle Velocity: 350~370 FPS
Magazine: 300rd, hi-cap
Gearbox Type: Version 2, full metal
Hopup Type: Yes, Adjustable

Check price on EvikeCheck on Amazon

Best performance

Overall Length: 890mm-970mm
Muzzle Velocity: 370-400 FPS
Magazine: 300rd Hi-Capacity
Gearbox Type: Version 2, full metal
Hopup Type: Yes, Adjustable

Check price on Evike

Best out-of-the-box

Overall Length: 552-673mm
Muzzle Velocity: 340-37- FPS
Magazine: 120rd, mid-cap
Gearbox Type: Version 2.5
Hopup: Yes, Adjustable

Check price on EvikeCheck on Amazon

Most Realistic

Overall Length: 725-765mm
Muzzle Velocity: 330-350 FPS
Magazine: 300rd, hi-cap
Gearbox Type: Version 2, full metal
Hopup: Yes, Adjustable

Check price on EvikeCheck on Amazon
---
Best overall

Colt's M4A1 Carbine is one of the best airsoft guns for beginners out there. I use this rifle, and it is as good as it gets. Weighing only 7 pounds (about 3 kilos), it is a relatively easier weapon to operate in the field. Especially when you're sprinting and need to aim almost instantly, the weight factor makes M4A1 the best choice amongst all mentioned in this list.
The good things don't stop there. This rifle can go up to 490 FPS (feet per second), and assuming you're a beginner, that is enough firepower. The gun is fully upgradeable, and for $100-$150, you can easily get parts to increase the firepower up to the 600 FPS mark. You can also shoot as long as 120 feet without compromising on effectiveness.
Iron sights are great and accurate, silencers fit, the gearbox is top-of-the-line, and battery timing is good. Keep a spare because if you're the lead rusher in your squad, the battery leaks out sooner than it should. It can easily last a couple of games, though.
I would have liked the three firing modes on this rifle but the M4A1 gives you only two; fully automatic and semi-automatic. You can find safety here as well. Speaking of which, you have a 300-round hi-cap magazine that can work with various models of the M4 rifle.
The overall construction is in metal which gives the gun a premium feels, and all the logos are Colt Licensed.

Pros
Good Range

Premium Materials

Perfect Body Weight for Assaults

Variable Fire-power (useful for many fields that restrict FPS range)

Full Upgradeability

Metal Construction

Cons
It gets very hot if continuously fired.
---
Runner-up

If you are the type of person looking for a compact rifle with great ergonomics, the new CM16 is the one to go for.
This rifle has many features that are best suited for a player with shorter hands and arm's length. However, it is not a deal-breaker for regular players at all. You can expect a decent accuracy and mid-length range but not the ideal weight-to-body ratio.
The rifle can shoot BBs up to 350 FPS at its maximum and can hold about 450 rounds at a time in its magazine. Following the trend of conventional M4s, this rifle also has a metal gearbox with 8mm bearings. Usually, this configuration is enough for outdoor skirmishes.
The barrel measures eight inches and is sufficient enough for a perfect and mid-length shot. The rear sights are flappable, just like little Legos. Stock is also adjustable.
Unlike the M4A1, CM16 is ranked among the best airsoft rifles for beginners in the "non-metal construction" category. In theory, this reduces the weight factor a lot, and the guns practically do not weigh much. The CM16 weighing only 4.5 pounds (2 kilos), is not heavy.
As an experienced airsoft shooter, aiming is a little bit difficult if your gun is not heavy enough. For a shorter gun such as the CM16, you will need to train your muscles according to the gun's physical characteristics (this only applies if you're switching from another regularly used heavier rifle).
This rifle has safety, full-auto, and semi-automatic settings. I found the semi-automatic to be a little more accurate than the 353 FPS sustained full-auto because it gave me more accuracy. Automatic firing is also good here. No heating issues, and the battery life is just great. You will need to purchase the battery and charger separately.

Pros
Extremely Light Weight

Good Accuracy

Compact

Adjustable stock

Great for Assaults

Cons
Aiming is difficult but accurate.

Not suited for long-range

No Battery Included
---
Best performance

One of the best ARs on this list, the EMG Black Rain Spec 15, is the second most recommended rifle on our list. It would be first if it weren't for a whopping $345.
With that out of the line, this rifle shoots BBs up to 400 FPS and can be upgraded to the brim of 500 FPS. There's one problem at that FPS range; however, the gun heats up dramatically and damages the battery.
The size of SPEC15 is the most practical one and is adjustable. It weighs the same as the M4A1 I mentioned earlier and is one of the best-suited rifles for beginners. SPEC15 also includes a V2 Full Metal Gearbox that is fully upgradeable.
The high-capacity magazine for SPEC15 holds 300 rounds and is compatible with similar mags from Matrix, G&G, Tokyo Marui, and other compatible M4 / M16 Series.
Unlike other ARs, SPEC15 focuses on being adaptable for many shooters. For example, it is very ergonomic with its alloy-cast body and does not wiggle at all. The handguard, barrel length, trigger, safety, and fire-mode switch placement are also great.
Not to mention that the iron sights are very well placed and exceedingly accurate for both close and long-range.
The 7.4V battery should last about 4-5 hours but highly depends on how often you shoot with the long motor. So definitely pack some other battery packs if you're going for a full-day skirmish. No battery will be included in the package, so you'll need to buy one yourself.
I don't understand why these stores do it, but they could have easily included a battery within that $345 budget.

Pros
Perfectly Balanced

Metal Construction

Good Ergonomics

Great Length

Excellent Accuracy

Cons
No Battery Included

Requires Prompt Cleaning

Shorter Battery Life
---
Best out-of-the-box

KWA VM4 Ronin is a mean-looking gun that delivers a powerful performance worth its price tag. Featuring a full-metal construction, it is sturdy and feels heavy enough to imitate a real assault rifle (it still has its orange tip, so no worries).
It has a VPS adjustable FPS system, so adjusting your muzzle velocity on the field, should it be necessary, won't be a problem. That means you can take this airsoft replica on a field game and for a CQB battle.
The trigger response on this gun is great. It's powered by the KWA's upgraded VM4 v2.5 gearbox and ensures a fast reaction time, so you don't have to curse in between your shots. The gun will release each BB in time for you to hit the target. The updated gearbox also means that you can install your choice of MOSFETs or electronic triggers to maximize its performance.
Following the revision of this gun, the manufacturers truly thought about the upgradeability and usability of this gun, taking into consideration user input and reviews for this replica. It has redesigned MLOK handguards, improved PDF stock, an ambidextrous charging handle, and a new SOCOM-style muzzle brake.
The internal parts are ready for upgrades and personalization, and so is the outer part of the gun with rails and attachments available for this gun.
With a great FPS ratio and strong batteries, this is the perfect ready out-of-the-box gun for both - beginners and more experienced players.

Pros
Great upgrade options

Easy to Maintain

Sturdy

Well-balanced

Cons
The ambi selector switch can get in the way of your hands
The battery space in the "buffer tube" is quite slim
Read our full review of the ICS M4A1 Sportline rifle here!
---
Most Realistic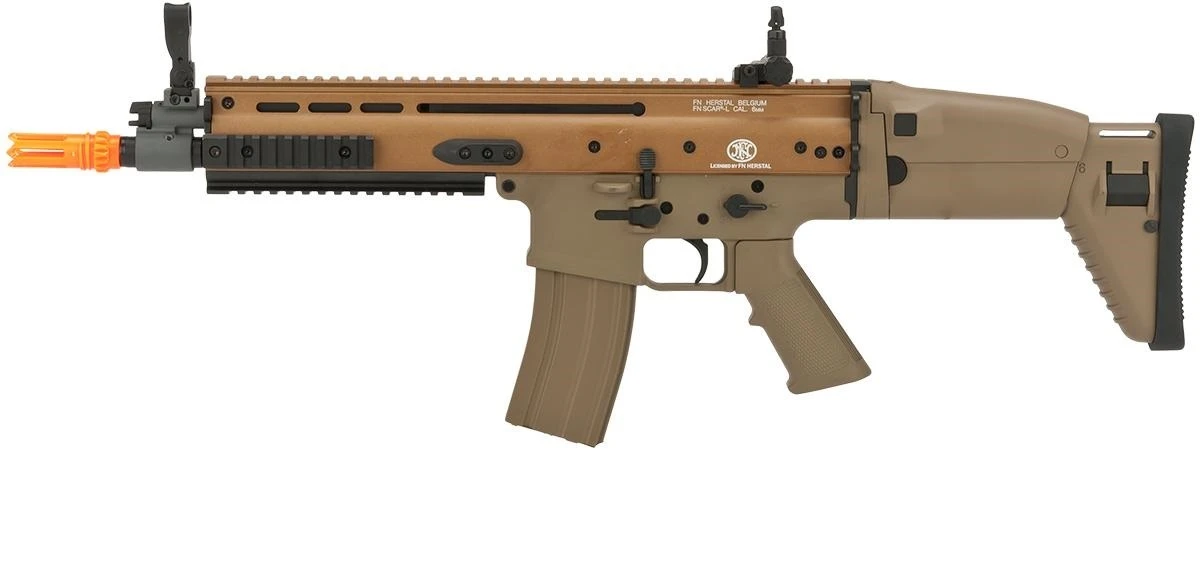 If you're after accuracy, then this premium version of FN Herstal Licensed SCAR-L is what you should be getting.
Remember that many variants of this gun on the market are from $65 to $199. However, they are made of plastic. This review is for the one with a metal receiver and the price of $220.
SCAR is an iconic weapon, and every armory is incomplete without it. Mainly because of its great accuracy and near-premium firepower.
While in real life, SCAR shoots a devastating round of 7.62mm. Our model will shoot a 6-8mm BB weighing in at 0.2g. The rifle can shoot up to 330-360 FPS but won't go past 327 FPS as per our observations.
FN Herstal Licensed SCAR-L has an all-metal receiver and gearbox assembly, which gives it some heft. Speaking of which, the aim of this rifle is excellent. Out of the 45 shots I took, 44 hit the target at a 50ft marker.
The plastic high-capacity magazine carries about 300 rounds and works with other airsoft rifles. The other thing worth mentioning here is the perfect fitting of the mag, no wobbles at all. Batteries come included in the box, which is always a welcome thing.
Even though I am a fan of its ability to shoot highly accurately even when on full-auto, I still think the overall quality could be improved. I'll rate the infamous Scar-L at 4.2/5 stars. It could have been a 3.8-ish if the rifle couldn't score so well in the accuracy test.

Pros
Excellent Accuracy

Premium Build

Perfect Fitting

Good Fire-power

Good Weight-balance

Cons
Plastic Stock and Hand-grips

Cheap Sights
---
A Guide to Choosing the Perfect Airsoft Gun for a Beginner
I might have you thinking about how I rated all these rifles, how I know what's best and when you should switch. When I think about it, it is too easy, but it may be a little more out of perspective for you. Let's not keep you too far off! Here's how you can select your best first airsoft gun like a pro.
It's all about the Game
First and foremost, you would want to decide where you'll be playing most of the time and the type of game. Is it Close Quarters or Open fields? Because the gun requirements will vary drastically on these factors.
If you're going to go with Assault Rifles, you can rest assured that they are the best option for either of these conditions. M4A1 is surely the best, followed closely by the M16, FN-SCAR, and G36C. 
You can also choose SMGs, but they become obsolete if you're playing in an open field, just like sniper rifles are too overpowered in CQ (close quarters).
Know Your Requirements
The second step towards choosing your first airsoft rifle is to know how it should be based on your requirements. Like the gun style, your budget, how much ammo you would want it to hold, the firepower of the weapon, etc.
Gravity-fed and magazine-fed rifles can also be a great roadblock in your choice. In this scenario, remember that a magazine-fed rifle is always more effective than a gravity-fed rifle because the latter misses and shoots BBs inconsistently. You will struggle with certain angles with gravity-fed rifles. That makes them a big no, no! 
The firepower usually translates to the FPS of the gun, so if you ask the keeper about the gun's power and he doesn't understand, just ask how much FPS the gun can shoot.
Once you know what you need, you will evaluate every option better without clouding your mind.
Always Understand the Gearbox
The gearbox for any airsoft rifle is its heart. The mechanics and materials of this single machinery rule your weapon, and you should not settle for anything less than perfection regarding the gearbox.
A gearbox that is made of metal is always a necessity. The body can be plastic, rubber, or even glass, but the gearbox… well, you guessed it.
So, a metal gearbox will always ensure that the rifle doesn't break any components while firing. It happened a lot back when plastic gears were used, and they couldn't stand the stress of the gun's own motor. Ceramic gearboxes also exist, but they are experimental and ineffective as they break upon impact and vibrations.
Therefore, a metal gearbox is not something to be compromised.
Upgrades and Repairs
Additionally, know that updating the piston chamber, spring, and gearbox is the ultimate goal for having a better rifle in the future. Accordingly, choosing a rifle that can easily be upgraded with parts over time is recommended.
This strategy saves you both money and time. You can then upgrade your rifle over time as you start getting a grip of Airsoft and win all those bets.
Moving toward repairs, it is equally important to have spare parts readily available. So before choosing that limited edition, check if its parts are gamely available in the market.
BBs and Firepower
Firepower and BBs are the second last item on your checklist. This is highly dependent on the type of gun you have chosen.
Normally, FPS (feet per second) restrictions differ on every field, so you'll have to clear that out. However, BBs should ideally measure about 6-8mm in size and weigh 0.2-0.4 grams. These standards must be met to ensure a safe and fair playing environment.
Barrels and Body
Now, this is the last thing to have on your checklist. You can skip it out if you're just beginning but if you're going long-term, read it out.
Many manufacturers always neglect a rifle's barrel and body to cut costs. There are good ones out there, like the Colt Licensed M4A1 Carbine, which is all metal.
The thing with metals is that they are robust and cannot be broken easily. For a sport like airsoft which involves all sorts of strafing, grunting, meeling, bending, sprinting, and jumping, a broken plastic barrel isn't much of a thing. Now assuming you don't want to be running around with a gun that has a broken barrel, know that barrels and bodies are ideal if they are made of metal.
This is a good thing to have, but it is not a must. (If you don't have the budget, all-metal rifles can be a bit more expensive than ABS-plastic ones.)
The Basics of Using an Airsoft Rifle: for the First-Timers!
Great job on selecting that M… Airsoft Rifle. Now that you have your favorite weapon in your hands, it's time to master it.
Assuming you are holding it for the first time in your hand, I'm pretty sure you're wondering what to do next. I will show you how you can lock and load in just a second, but first, here's a simple breakdown of how the general airsoft rifle works,
How does an Airsoft Rifle Work?
The airsoft rifle has six main parts:
The Battery

Motor

Trigger

Gearbox

The Spring

Piston Chamber
First, the battery powers the motor, which then rotates the gearbox when the gun is cocked. This will pull the piston back, compressing the main spring and pushing the spring system outwards. Once the main spring is compressed, another spring attached to the piston is stretched, pulling it inwards, and the gun is loaded. As soon as the trigger is pressed, the piston shoots in its chamber, blowing a very strong jet of air out the nozzle that shoots the nozzle. 
Now imagine this happening 40 times in a second on average for an assault rifle. That's how it works, in a very short paragraph.
Locking and Loading your Rifle
To start, fill the BBs in your rifle's mag and load the clip in your rifle. Then insert the battery in its compartment. Cock the gun and turn off the safety. Choose your firing mode and aim. Hit that target by fully pressing the trigger.
Cleaning Your Rifle
You must have received a long steel rod with your gun. That is not something for the show, but it is a cleaning rod used to clean your rifle's barrel. The smoother the barrel of your rifle is, the better it will shoot. So, whenever you have the leisure of sitting around with your gun not in use, take that rod and clean the barrel thoroughly.
Precautions before going in on Live-Action
If you are not careful enough, you can seriously injure a person. You must always take these precautions before going into a live airsoft field.
Use Safety Equipment such as Helmets, Glass Shields, Eye Protection, and Body Armor.

Always know the status of your safety.

Never point or stand in front of a muzzle.

Do not overpower your weapon.

Always check the FPS regulations.
Things to Avoid when shooting
You should always be careful of how you shoot your weapon and where you shoot at. Hitting someone in the face is strictly prohibited and can often result in permanent impairments like blindness.
Additionally, do not shoot someone point-blank (from a very short distance).
Different Types of Airsoft Guns and Their Benefits
There are five different types of guns normally used in Airsoft battles.
Assault Rifles or ARs
Assault Rifles single-handedly outnumber all the other types combined. The main reason they are so popular in the airsoft community are the applications of their versatile features. For example, they are very effective in short as well as long-range battles and have the ability to fire BBs automatically. These are two reasons ARs are so widely issued to soldiers.
ARs are also among the most desired weapons in the real gun industry.
Sub-machine Guns or SMGs
SMGs are little brothers of ARs and have fire rates rivaling ARs but not the fire powers. SMGs are lower powered and valuable only in Close Quarters.
Light-machine Guns or LMGs
Rifles like SAW are among the rarest LMGs the airsoft industry produces. People are usually the least interested in them because of their very expensive prices, but they are not extinct.
They are heavier than any other gun as well.
Sniper Rifles
The sniper rifle is perhaps the most powerful and the second most widely used rifle on the airsoft battlefield. Nearly everyone is a rusher with an AR, but all those people want to be a sniper. 
I have personally seen games where a single sniper takes out entire camps.
If you aspire to become an airsoft sniper, check out our Best Sniper Rifles for Airsoft Guide!
Handguns or Pistols
Underrated but effective handguns are your backup plan. They are low-powered but versatile enough to help you counter-attack and win a game when your main weapon is unavailable.
Looking for a good pistol for your secondary sidearm on an airsoft game? We have them reviewed here!
Frequently Asked Questions
What should I wear to an Airsoft battle?
Wearing eye protection is necessary, but you should always cover your body with proper equipment.
Am I responsible for any damage if the other person was not wearing eye protection?
Assuming that you unknowingly shot the other person who was not wearing eye protection immediately clears you of any blame, as he was the one who broke the number one safety rule.
Can I paint my rifle's tip black or camo it? OR Can I remove the orange tip?
Federal law requires all airsoft guns to carry an orange tip, and tampering with it in any way makes you a law-breaker immediately. In some cases, it voids the warranty of your product.
Can I break windows with Airsoft Rifles?
Yes, but it is highly dependent on the FPS of your gun.
Is there a way I can shoot metallic BBs from my Airsoft gun?
Yes and No. They are not specifically designed to shoot metal BBs as they are heavier and can result in serious injury. Some models, however, may shoot metal BBs by chance.
Are BB Rifles and Airsoft Guns the same thing?
BB rifles fire metal BBs and are used for hunting, target practice, and similar activities. Airsoft rifles shoot plastic BBs and are used for recreational sports and hobbies.
Is a Gas or CO2-powered gun worth it?
It entirely depends on your preference. AEGs or Electric Guns are more efficient than air or gas-powered guns but are comparatively expensive.
 Conclusion
All-inclusive, I would conclude that the all-metal M4A1 Carbine is the best airsoft gun for beginners. The M4 excels in every category and satisfies its users with its power-driven, premium, and realistic finish. 
Closely following the M4's trend is the CM16, with a slightly targeted approach and a specific niche. And if you are trying to save some bucks, I would recommend getting the cheaper ICS M4A1 with a plastic body but a metal gearbox.
In the end, I would like you to add more to this article by dropping your suggestions and experiences down in the comments. We will feature your update in our article if it converts.