Are you looking for an affordable rifle for target practice and military-style games? EMG Black Rain Ordnance BRO SPEC15 airsoft rifle is a high-quality rifle with exceptional features such as 890mm-970mm adjustable length and 3180 grams weight. The manufacturer's "King Arms Black Rain Ordnance (BRO)" started in 2009 and raised in popularity within no time for producing modern sporting rifles in several calibers and configurations. It is one of the best airsoft rifles out there. 
Evike Manufacturing Group (EMG) is known to be the R&D division of Evike that directly connects with the firearm manufacturers to ensure the accuracy and standard training to use a specific weapon. The black rain ordnance spec 15 is best for practitioners with its ease of use, aesthetic looks, durability, and moderate weight.
The features like the Integral trigger guard, reduced weight, interchangeable grip inserts make this product stand out among the rest. KWA Ronin T10 RM4 3.0 Electric Recoil Airsoft Rifle (Black) is another best alternative to this beautiful weapon. It will be easier for you to select the perfect rifle after reading this EMG Black Rain Ordnance BRO SPEC15 airsoft rifle review – let's start with its pros and cons.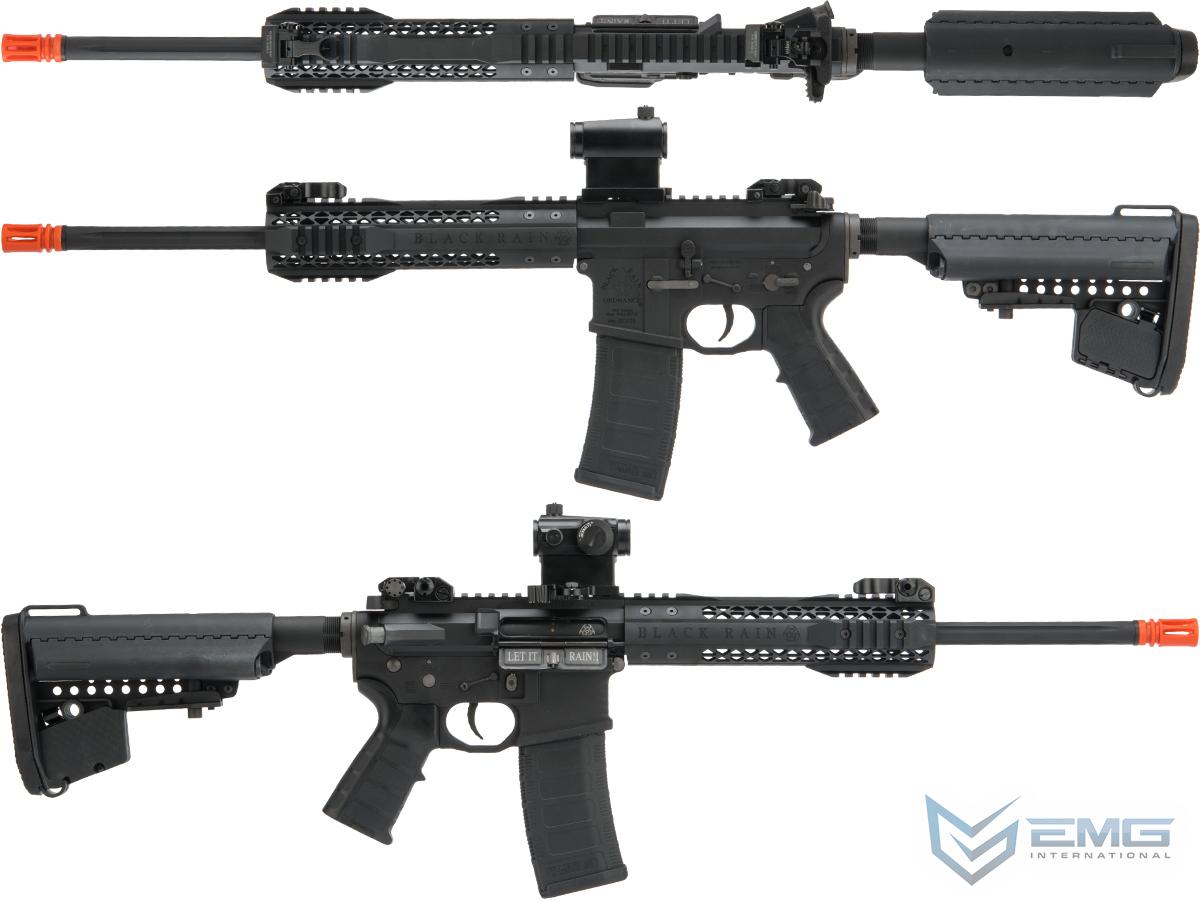 Pros
Great Quality
11.1v Lipo battery
Handy grip options
Metal Iron sights
Perfect Weight
Steady Bolt catch
Aesthetic looks
Cons
Inconsistent trigger-pull
Unstable Stock
Little room in the stock for battery
Limited rail space
Things To Consider Before Buying an Airsoft Sniper Rifle
Airsoft rifles are becoming famous for those who want a realistic gun for their practice of firearms. To dive deeper into the black rain ordnance spec 15 review, let's look at the things you need to consider when buying your first airsoft gun.
Grip
The grip is an essential factor for having a satisfying performance with a gun. Therefore, make sure it is accurate; otherwise, you will end up losing the game.
Gun Material
It would be best to look at the material when buying an airsoft rifle as per your needs. Beginners can go for a gun made up of suitable quality plastics, ABS, and polymer. Metal guns are heavy but durable.
Weight
A good quality airsoft sniper is neither too heavy nor too light. Although metal body guns are more solemn and expensive with greater efficiency, you can choose either metal or polymer guns to lift easily.
Adjustable length
A perfect airsoft gun must have an adjustable length that promotes a better grip.
Hop-up
A sniper with an adjustable hop-up increases its range.
Accuracy
Accuracy is the key factor of any airsoft weapon to ensure proper shooting. Make sure it is accurate and adjustable by checking these areas; length, bore, quality, hop-up setting, and inner barrel. 
Features and Benefits
Taking black rain ar15 review further, we have compiled a section of its specifications and benefits. Read on to know how this rifle manages to pack a lot in a bit of space:
Cast aluminum alloy receiver with CNC finishing makes the EMG BRO SPEC15 airsoft rifle exceptionally lightweight despite its strength and corrosion resistance.

Stamped trademarks and electrophoretic finish give the weapon an appealing look. 

An integral trigger guard prevents the gun from being fired accidentally

Extended charging handles and locking bolt plate makes it easier for the shooter to operate the charging handle during high-stress situations

Controlled MOSFET (Metal–Oxide–Semiconductor Field-Effect Transistor), 8mm bearing gearbox with fast-changing spring guide compatible with Version 2 gearbox upgrades

Neodymium High Torque Motor makes it possible to increase productivity while maintaining low costs

CNC strong gears, complete steel rack piston that is lightweight with high impact-durability

Interchangeable grip inserts make the rifle easy to hold, aim, and change targets

One-piece metal hop-up increases range and accuracy
Other specifications included in the black rain ordnance barrel review are:
FPS Range:

370-400

Length:

890mm-970mm Adjustable

Inner Barrel:

445mm

Handguard Length:

15

Weight:

3180 gm

Muzzle Velocity:

370-400 FPS

Thread Direction:

14mm Negative

Gearbox:

Ver 2 Full Metal, Completely Upgradeable

Motor:

Long Type

Fire Modes:

Semi/Full-Auto

Battery:

LiPo 7.4v small stick type
Alternatives
Black Rain Ordnance is a well-known producer of top-tier firearms that specializes in AR-15 style rifles. However, if black ar15 doesn't suit your requirements, you can go for these alternatives: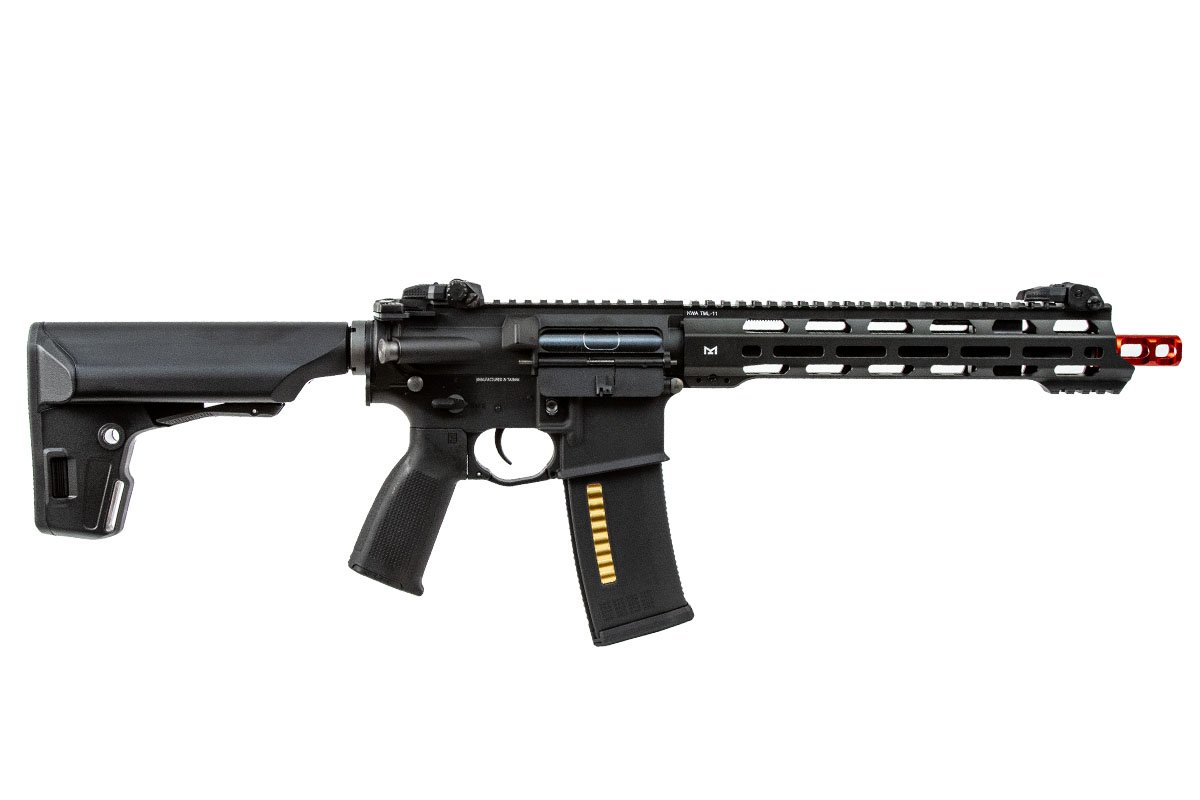 The KWA Ronin T10 is the upgraded version of KWA's patented AEG 3 design. Enlarged trigger guard ensures safety and comfort, while the detachable magazine compatibility allows the user to carry multiple pre-loaded magazines and switch between them as needed. KWA is an industry-leading airsoft sniper manufacturer famous for its high-quality service and products. This airsoft gun features
Muzzle velocity, 390 – 410

Kinetic Feedback System (KFS)

Enhanced grip

Warranty Length: 90 Days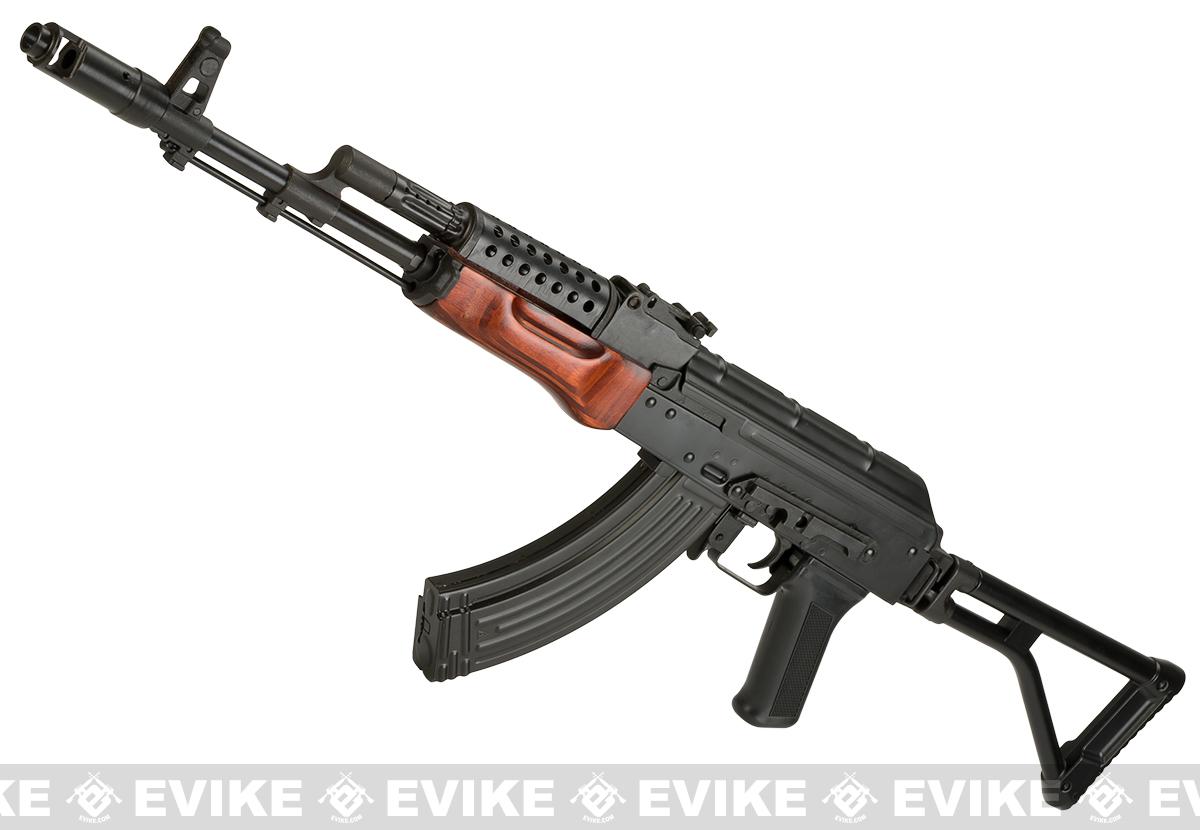 LCT Airsoft G-03 NV Carbine AEG Airsoft rifle has a steel body with a wooden grip that enhances its productivity and authenticity. The LCT is another famous AEG manufacturing industry promising good quality, durability and accuracy of their airsoft weapons. In addition, the solid structure of LCT Airsoft G-03 NV Carbine gives you a realistic feel and experience.
Muzzle velocity, 400-430 FPS

Magazine Capacity: 130 rds

Warranty Length: 45 Days
Conclusion
After getting to know all about the EMG Black Rain Ordnance BRO SPEC15 airsoft rifle, we can conclude that it is an ergonomically good rifle for the best realistic gaming experience. Manufactured from the best materials available, the Black Rain Ordnance ensures affordability, durability, safety, and reliable hop-up at your disposal.
Its reduced weight, aesthetic looks, increased strength, and surface area for improved heat make it users preferred choice. We hope you find this airsoft guide helpful; click on the link below to check out the product.