3 Simple Yet Powerful Home Made Airsoft Grenades 
Usually, airsoft players go to their local convenience stores to replenish their ammo supplies. The problem with store-bought airsoft ammunition like grenades is that they end up being costly in the long run. These costs end up limiting your airsoft gaming experiences and decrease your budget for airsoft rifle upgrades, BB replenishment, and game field fees. Grenades are a lot of fun, and this is something you can make yourself – saving on your spending. 
This guide teaches you how to make powerful homemade airsoft grenades. Read on to learn how to make three different types of homemade airsoft grenades: A flash fire grenade, a water grenade, and reusable airsoft grenades. 
Flash Grenade 
The easiest airsoft grenade you can make at home is the flash fire grenade. To assemble it, you'll need a matchbox, a wooden plank, and a pin.  
Steps
Find a matchbox with graphite coated wooden sticks

Cut the wooden sticks near the tips

Line up the match tips and glue them together using a wooden plank

Smear the match stick tips with adhesive glues

Add a layer of matchsticks glued together

Take a plastic cap and make double v-shaped incisions 

Cut off the scratch parts of your matchbox and glue them together with a metallic strip

Place the double-layered matchsticks to the plastic cap 

Insert the scratch parts between the glued matchstick tips

Attach a firecracker to the glued matchstick tips

Place the materials in a plastic casing and attach a detonator pin
Water Grenade 
This simple airsoft grenade packs in a powerful punch. Here's how you make it. 
Materials needed 
An Easter egg

A weight 

A spring 

A rubber band 
How it works 
The Easter eggs are filled with water. These eggs contain a weight and a spring that detonate splashing water at high velocities.
Assembling the grenade
Take the spring and the weight and place them inside the Easter eggs

Fill it with its water and stabilize the grenade by wrapping it with a rubber band

To use it, remove the pin and launch it at a target 
A reusable impact sound grenade 
The reusable impact sound grenade is without a doubt, one of the most complicated types of airsoft grenade to make. 
This grenade comprises metallic parts that require drilling, soldering, and filing to work. Here is a video on how you go about assembling this type of grenade. 
Best budget airsoft grenades
If you're in a rush and can't be asked to assemble your DIY airsoft grenade, we highly recommend you check out the following cheap airsoft grenades.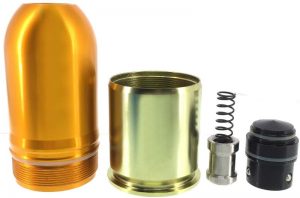 The CO2-powered SportPro 4 is an excellent choice for its long-range and spread. The four-round capacity airsoft grenade is remarkably durable and powerful.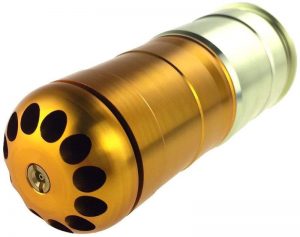 This CNC aluminum-covered grenade has a 120 round capacity. It's powered by CO2 and comes with a fantastic spread and excellent range.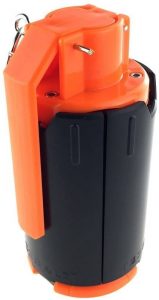 This best-selling airsoft grenade comes in a sturdy polymer exterior. It has a 210 round capacity and it's spring-powered. It has an impressive range and spread. 
Final Thoughts
As you've seen, it's quite easy for you to construct an effective DIY airsoft grenade at home. Using readily available and cheap materials, you can make a powerful grenade to rival those sold at the local convenience stores. Making homemadeairsoft grenades is a fun process that also allows you to save hundreds of dollars.