If you're interested in acing the airsoft fields but do not want to spend on a pro-grade weapon, you have come to the right place. In this detailed review of the G&G CM16 Raider 2.0 AEG rifle, you will find hands-on insights, tips, and tricks for beginners on top of some special features.
Based on my practice in the field for a few days, I would recommend the CM16 Raider 2.0 AEG to anyone who is just starting Airsoft. Plus, this type of AEG gets the job done as an inexpensive alternative to the better M4A1 Carbine (read the detailed review here). 
You can check out our full roundup article on the best airsoft rifles for beginners here!
In one line, the CM16 Raider 2.0 does what it intends to copy M4A1. Sometimes, it does that well but falls behind on many things. These few key differences knock out the CM16 in front of the M4 but make it a worthy option at the same time.
I will get to them in a few seconds… But first, let's get to know the CM16 a little better.
The CM16 is kind of like a cousin to the M4A1 Carbine, and it is the first thing I noticed once I picked it up. The hand feel, in particular, is the same as the M4A1 Carbine to the point where if you're using a scope, you forget that you are holding a CM16.
The rifle is not all-metal but rather a high-quality polymer build. It comes with an M-LOK Hand Guard that does its job well.
It weighs almost 5.72 lbs. (2.6 kg) which is a little on the lighter side. Then again, since an AEG is often used in Assaults and does not need to be heavy in particular, I would say the weight is just okay.
If upgraded, this rifle can cross the 350 FPS mark and can go as high as 420 FPS when shooting 0.20g BB ammunition. This is considerably lower than that of a fully upgraded M4 but is usable. 
Additionally, the AEG suffers in the fire rate department. A lot of battery is consumed in operation, and aiming is not essentially perfect. Single fire mode saves you some battery and is more accurate. On full-auto, however, the rifle vibrates and jams if continuously fired.
While this has happened only twice, and that too in extremely hot weather conditions, I found it worth mentioning in the article.
Apart from that, the CM16 is mostly upgradeable, like its cousin, the M4. So, beginners will have no problems while they're having a taste of this golden candy.
Things to Consider when Playing with a Raider CM16 2.0
Even if this is just another AEG, playing with it is a little different. Here's a breakdown of things you should know about before selecting to practice on the CM16 AEG.
The Grips
This rifle is not very grippy, and if you are not wearing gloves while having wet/sweaty hands, you can easily lose accuracy. To avoid this, use gloves or a thumb grip instead of a vertical one.
Weight Balance
The weight of this AEG is a little on the stock side, which explains why the timing is so off with the iron sights. Consider using a compensator or have it tucked in with your shoulder for more accurate shots.
Fire Rate
Even though the hop-up mechanism and the full-metal gearbox tried to deliver the best performance. The fire rate is just OKAY. 
Just Okay, not great.
So, if you're going for a gun with a great fire rate, such as the M4 or a Scar-L, you should not be looking for the Raider.
Jamming
Even when the rifle is not under much load, it jammed twice when I was using it in the direct sun. So, don't keep it in the sunlight for too long as it tends to get jammed.
Aiming
Remember that you don't get the optics shipped with the AEG. This means if you don't buy one, you will have to use the iron sights on the full-length top rail of the rifle.
As I mentioned earlier, the rifle shoots well, but it is not the most accurate gun on the planet. Accuracy suffers from the iron sights on full-auto. Semi-auto is much better but still lacking a bit, as some shots land at least a foot away from the target.
Features and Benefits of the CM16 Raider 2.0
At around 200 USD, the rifle is not bad overall. Sure, you are lacking some essential things, but you are gaining some advantages with this AEG as well
In my experience, any airsoft beginner can wield this AEG, and with enough practice, he can rise through the ranks.
The CM16 Raider 2.0 has the following features and benefits when it comes to real-life situations,
Upgradability
Although the rifle does not ship with a fully upgraded motor and gearbox, you can still have those updates at a later stage. This makes the AEG perfect for people who don't need expensive parts and are just looking for a good rifle to help them score better.
The CM16 is partially upgradeable, making it a likely candidate for people who play airsoft for fun, not competition.
Compactness
This AEG is compact. It doesn't need to have a long barrel to make it effective, and it is not heavy either. This compactness allows it to have an exceptional advantage in rushes and aces.
This compactness ensures low response times and better strafing ability for pro players. With around 2.5 KG weight, aiming is just as easy.
I love this part as this adds to the application of the AEG, especially for beginners.
Weight & Balance
The weight and balance are a little on the stock side. The recoil became a factor for me because of all that backward heft. Whenever you are bursting full-auto shots, the rifle tends to move upwards, triggering less accurate shots as a result. 
Therefore, I would recommend that you only buy it if you have short arms or want a gun that fits its description.
FPS and Range
The CM16 AEG can shoot up to 420 FPS when fully upgraded. This is enough to work for 90% of the airsoft players. You should expect just about 350 FPS out of the box. A stronger spring can take this number higher, though.
Speaking of the effective range, you can shoot pretty decently within 150 feet. Anything beyond that, you will struggle.
There is some thermal throttling in both the rifle and the gunfire rate. The FPS also fell by 13 points after shooting the gun for a long time continuously.
Regardless, my tests are often very hard to clear, and if a gun passes, like this AEG, it usually means that a normal user will have no problem.
Build and Hand feel
Unlike the M4, the CM16 Raider 2.0 is made from a cheaper, lighter Polymer material. The internals is still metal. So, there is no compromise there, at least. You need to be careful not to drop the rifle on rocks or fall on it yourself, as the polymer material will surely break under load.
The hand feel of the gun mirrors the M4, and if you take away the feeling that the M4 is a bit heavy, the CM16 feels just like the M4.
The weight plays an important factor in the feel, but the CM16 Raider 2.0 has perfected it.
Battery Life
The battery is not shipped with the rifle; you'll have to spend extra to buy them. You can choose between 9.6v NiMh Butterfly or 7.4v Small Stick Type LiPo type batteries. Both are the same in their function, although the 7.4v small stick type lasts a little longer and fits better.
You should expect a decent battery life; the gun will last about 2-4 games. However, it is highly dependent on how you shoot. So, there isn't a perfect number.
Aiming and Shooting
There are a couple of things to address when it comes to the hop-ups on CM16 AEG,
They are misaligned by default

They are no good at long range
The first one is a 5-minute fix, but the second needs addressing. I recommend getting an optical scope, as it will save you a lot of frustration if you're into longer ranges.
The shooting experience is good overall but not exceptional. There are decent vibrations, controllable recoil even on full-auto, and overall satisfaction when pulling the trigger. Any beginner will love shooting this AEG, 5 start here.
Fire-settings
There are three standard fire settings:
Safety

Full-auto

Semi-auto
There's no burst option, sadly. I recommend fully upgrading the rifle's gearbox and using the semi-auto setting as much as possible since it is the most accurate and extends the battery.
Magazine
Pretty much like the M4, the CM16 uses a compatible magazine that can hold up to 300 BBs at a time. You will have no problem shooting 20mm BBs through any magazine that is compatible with the M4 series through the CM16 Raider 2.0.
You'll feel that the reloading experience is very premium. The magazine directly fits into the chamber without wobbling and slides out on its own when the button is pressed. This means quick reloads are possible with the CM16.
What others say about the CM16 rifle
Here's how people are putting up with the CM16 Raider 2.0,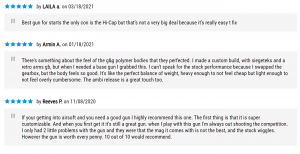 Best Alternatives
Here are some of the best Alternatives to the CM16 Raider 2.0,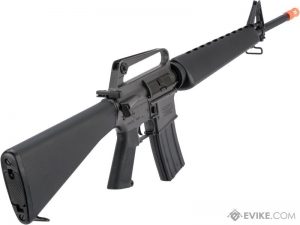 Belonging to the flagship series of the M4, the M16s use the same components but bring power and balance to the table.
You can expect high FPS, long-range, accurate sights, burst fire, and a metal body on this rifle. It is the one I own as I am writing this review, and it is as good as an airsoft rifle can be expected. The battery timing is also best-in-class. The weight is towards the front, making it easier and more accurate while aiming.
The AEG is full-upgradeable and built to last, so you can rest assured that you can throw, dunk, hit, and smash your rifle, and it will still stick with you.
The ergonomics on the M16, in particular, are great, and if you can find it in a metal build somewhere, that will be just like hitting a lottery.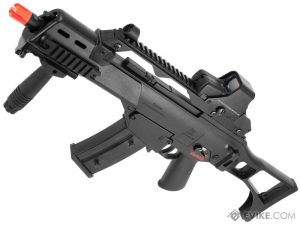 G36C is another worthy companion for you in the field. It has a weird hop-up system, but it is one of the most accurate ones I have ever seen. It has an uncanny shape, but the gun itself is very capable.
It can shoot very decently and with zero recoils, hence the design. The gun is also one of the longest-performing AEGs in my battery test, with up to 9 hours of endurance on a single charge.
You can have a burst option on some models of this gun. On others, you can have a full-auto and a semi-auto switch.
The overall hand feel is very sturdy, and you'll feel the weight if you have weak arms, but then again, it is there to compensate and help you aim better.
I will recommend using a vertical foregrip as it adds more to the user experience of a G36C. Additionally, you should consider getting an extended magazine as this AEG has a high fire rate on Auto-mode.

The FAMAS is just like G36C, only a little more accurate and balanced. The rifle is an iconic French weapon and is currently used in the French military.
The rifle uses a unique hop-up system and provides an even better user experience thanks to its convenient design. The magazine is placed just ahead of the stock, which helps faster reloading.
Additionally, the weight of this rifle is kept on the stock side, but it doesn't interfere with its aiming ability. Due to clever engineering, the rifle can still shoot with 90% accuracy using its hop-up iron sights within the effective range. Several shooting modes are available, but since the range on this AEG is good, you can go with a semi-auto mode for 99% accuracy.
A vertical grip with FAMAS is necessary as you'll struggle to ensure a secure grip without it. Besides that, the AEG makes it to the top recommendations for any airsoft player.
SIDE NOTE FROM THE AUTHOR:
If you are a beginner looking for a new rifle, any of the above can provide you with the best experience. But you should be willing to stick to that rifle unless you are a total master of it.
Try and get a pistol, and switching your weapon is faster than reloading when you're in a fight. Practice will make you perfect, so even if you think that a certain rifle is not for you, you should still practice it until you get things right.
Afterward, you can upgrade to a heavier AEG and progress your skills alike. This trick is to get familiar with different weapons and gain more experience.
Conclusion
I will end this review with a full recommendation of the CM16 to beginners. This is a good weapon to practice with. You can even win games with this rifle if you know it well enough.
Therefore, those who have it and are thinking of upgrading its parts, please go ahead.
Just ensure you keep the gearbox under stress, as it gets really hot if fired continuously. Also, don't sit or fall on your CM16 Raider 2.0, as it is a polymer material and may break.
For the pros and more experienced players, you can check out my review of the M4A1 Carbine here.
You can take a look at the manufacturer's specs on the CM16 product page here.