Airsoft has grown to become an entertaining activity for millions of individuals globally. Your performance is determined by your level of training and the type of rifle you use in airsoft. Consequently, it is necessary to get an airsoft sniper rifle featuring outstanding functions that will help you "up" your game. 
It is worth mentioning that no single sniper rifle can be tagged as the best out of the box for every need. Instead, they can be upgraded to suit your needs. In this article, we have reviewed some of the best airsoft sniper rifles out of the box for an extensive range of use to help you make the most suitable choice.
---
Best Airsoft Sniper Rifles Reviewed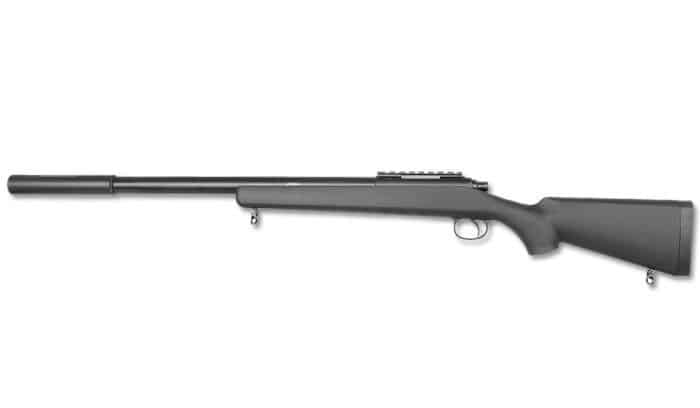 If you are looking for a stylish and practical airsoft sniper, then the Tokyo Marui VSR-10 G-Spec is what you need. It comes with a dummy suppressor, rail, and adjustable hop-up that allows you to attach optics to your sniper conveniently.
This rifle features an ergonomically designed stock equipped with an ear for attaching a sling and a rubber buttock. Thanks to its Picatinny rail, attaching optics is relatively easy.
Additionally, its mock suppressor helps to complement its barrel, offering improved performance, making it our overall choice of the best airsoft sniper rifle.
Features
VSR-10 system
High-quality polymer receiver
Metal bolt assembly and Aluminum outer barrel
Built-in 20mm rail for attaching optics
Portable bull barrel
Mock suppressor
Pros
It has a smooth pull.
Compact and light in weight
There are lots of accessories available for upgrade.
It is a durable and high-quality sniper.
Cons
Right-handed only
Some users complained of noisy sling mounts.
---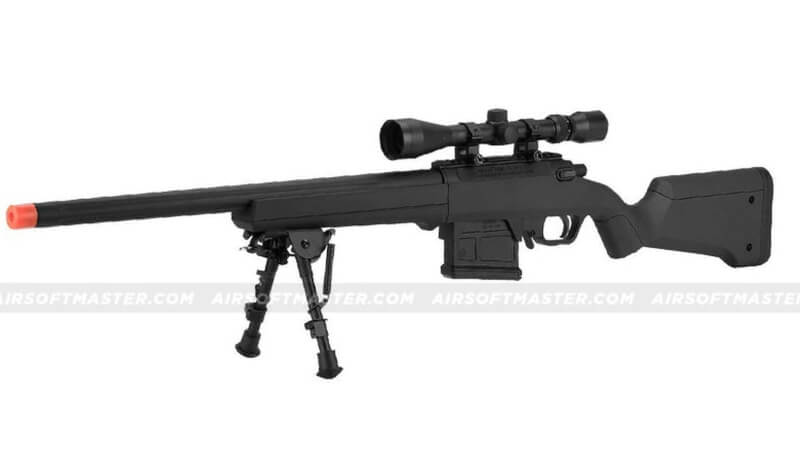 If you require an airsoft rifle that offers excellent customization options, you should consider Amoeba striker S1. This sniper is compact, advanced, and precise, making it suitable for new and experienced players. Making it the best airsoft sniper rifle on this list, and out there. And certainly worth your consideration.
That said, this bolt action sniper rifle comes with a polymer chassis and metal receiver that makes it stand out in performance. Besides, it is compatible with several accessories, and parts thus make it highly upgradeable.
The striker S1 supports AEG springs, which help to improve its velocity. Also, its loaded chamber indicator lets you know when to reload the sniper.
Features
Metal receiver, barrel assembly, bolt, and fluted outer barrel
Features an adjustable polymer chassis, buttpad, and cheek riser.
Direct feed magazine
Interchangeable handguard
Ambidextrous magazine release
Adjustable hop-up dial
Pros
Its polymer metal gives it a feeling of being real.
The hop-up wheel makes it easy to adjust.
Great shot out of the box
There are lots of accessories available.
Cons
It has a low FPS
Expensive stock gun
---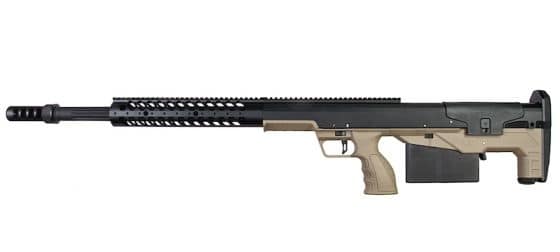 If you are in the market to shop for the best high-end sniper, then the Desert Tech HTI rifle is perfect. This BB sniper is equipped with a reinforced butt plate that improves its durability.
There's a trigger box that improves consistency and reliability while its piston and piston head provides better compression. It also features a flat hop-up construction that gives it better accuracy and range, making it one of the best airsoft sniper rifles.
Thanks to this sniper's polymer stock, you can adjust several parts, including the monopod and cheek rest, for better comfort. The sniper's adjustable barrel also allows you to determine the rifle's BB flight and length.
Features
Significant compression out of the box
Adjustable monopod and cheek riser for suitable cheek rest
Barrel length is interchangeable, making it suitable for use in different roles.
The full metal 20mm top rail is designed for mounting optics, designators, and other accessories.
Unique two-sided hop-up adjustment allows for fine-tuning of hop-up
Improved pull bolt system cocks the gun on the back pull, like a traditional sniper rifle.
Pros
Available for both right and left-handed users
Its air seal helps to produce repeatable and accurate follow-up shots.
It is a bit expensive.
It had an adjustable trigger to fit your hand.
Cons
It is a bit expensive.
The barrel is challenging to load compared to other products.
---

The JG BAR-10 BAR-10 is designed to look like the Tokyo Marui VSR-10. It features a trigger box and aluminum cylinder for improved compression, accurate shots, and repeatable follow-up shots. Also, this VSR 10 airsoft sniper rifle comes with mounts suitable for attaching a bipod and optics.
This sniper is light in weight and has a detachable suppressor and impressive muzzle velocity, making it suitable for outdoor and field plays. One of the features that make this rifle stand out is its trigger box and upgradeable design, making it easily upgradeable with most market parts.
Additionally, this airsoft sniper rifle with scope comes with a polymer stock, high power spring, sling loops, metal bolt, rubber pad, and nozzle for consistent performance and smooth pull.
Features
Aluminum alloy trigger assembly with adjustable trigger
Highly upgradeable with parts in the market
Aluminum cylinder and brass cylinder head for a smooth pull
Adjustable hop-up unit
20mm optics rail
Pros
High muzzle velocity and range
Easy to use
Top-quality metal assembly
Upgradeable muzzle
Strong spring system
Cons
Stock version not as durable as others
Hop-up unit needs frequent adjustment
---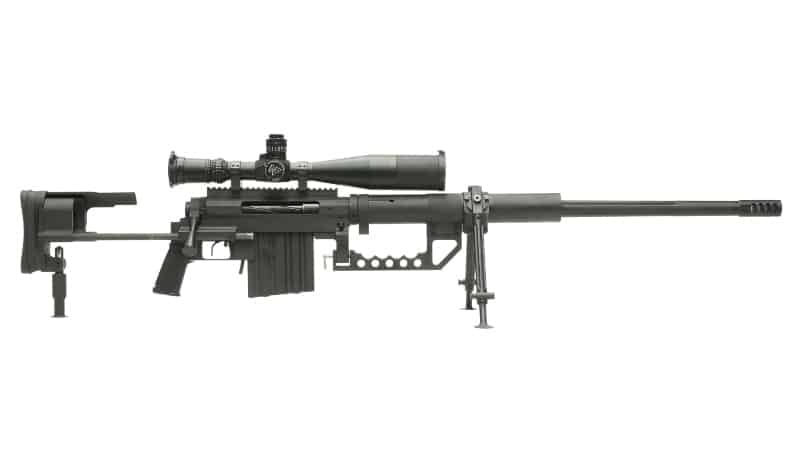 If you are looking for a military-grade airsoft sniper, then the CheyTac M200 ticks the boxes. Its robust and durable construction makes it suitable for both field and outdoor use. Interestingly, this spring sniper rifle comes in a metal alloy and molded polymer construction that gives it a sleek and stylish look.
The M200 has an ergonomic grip that provides a firm grip and allows you to shoot without the rifle slipping off your hands. Also, the bolt is spring powered to help users shoot their targets speedily with minimal effort.
Furthermore, this airsoft rifle is equipped with an adjustable bipod easily foldable when it is not in use. You can easily upgrade this sniper's barrel assembly, internals, and externals.
Features
Accurate Magazine Fed and Bolt Action
Adjustable stock and barrel assembly
Metal chassis construction
Adjustable metal bipod that can be folded when not being used
The sniper's magazine is drop-safe
Pros
It is highly accurate.
Study and durable.
Full metal construction.
Easy to disassemble.
Cons
Poor range out of box
It is bulky
---

The CYMA L96, without a doubt, stands out as one of the most affordable rifles on our list. It features an efficient bolt action mechanism that ensures consistent power, durability, range, and accuracy. Besides, it comes with a metallic trigger box that increases the rifle's life span and improves its reliability.
That said, this airsoft sniper has a polymer chassis that is light in weight and durable. It also features a stock that provides maximum stability and comfort when shooting. Thanks to this sniper's stainless cylinder, users get to enjoy smoother, consistent, and powerful cocking actions.
Additionally, this sniper comes with rear and front mounts for convenient attaching
a sling to the sniper.
Features
Injection-molded polymer stock
Rigid aluminum alloy bolt system, receiver, trigger, and barrel.
Comfortable ergonomic design
Top rail for attaching optics
Polished steel cylinder for smoother cycling and power
Rear and front sling mountings
Pros
It had a comfortable cheek riser.
Easy to assemble and disassemble.
Adjustable hop-up.
It is affordable.
Cons
It has a low range compared to other competitors.
It is difficult to maneuver due to its length.
---
Buying Guide – what to consider when buying a sniper rifle
Choosing the best airsoft sniper rifle can be a bit tasking as many manufacturers and models are available in the market. The sniper should be able to perform optimally and make you stand out in the field.
As a result, we have provided you with factors you should consider when buying an airsoft sniper rifle.
Materials and Construction
The materials and construction of an airsoft sniper greatly determine its durability and performance. Good snipers are often made from a combination of metal and top-quality polymer. Even more, the rifle's frame should be light hence making it more comfortable to handle.
It is also necessary to consider an airsoft sniper whose receivers, firing mechanisms, and barrels are made from metal to ensure excellent firing performance.
Spring-Loaded Operation
Most airsoft rifles come with a spring-loaded mechanism for firing rounds. Although spring-loaded sniper rifles need cocking before firing a shot, reducing the firing rate, they are highly reliable.
On the other hand, these rifles do not require you to load them frequently. The sniper rifle is suitable for shooters who are accurate with their shots.
Ease of Use
You would not want to buy a weapon that is difficult to use or one whose essential parts, such as hop-up, are challenging to locate and make adjustments. Your rifle should be easy to repair in cases of breakage and have readily available spare parts.
Additionally, left-handed shooters should consider buying rifles that allow ambidextrous use.
Upgradeability
Airsoft snipers are generally good out of the box; however, these snipers work best when upgraded. When a sniper rifle is upgraded, it allows you to have a more extended range, consistent, and accurate shots.
That said, spring airsoft rifles come with more upgrade options and are compatible with lots of parts, making them easier to refurbish. It is important to consider the features you want to have before making a purchase, as many snipers come with features such as handguards and scopes out of the box.
Other accessories that some rifles come with are a bipod, which allows you to position and stand the sniper when lying on your chest. Also, there's a scope to help you target opponents faster.
Additionally, most rifles are equipped with an accessories rail for mounting other upgrades compatible with your rifle. Other parts you can upgrade to improve your airsoft sniper's overall performance include the hop-up chamber, trigger, Sears, spring, spring guide, and piston.
Weight
Airsoft snipers tend to be long and heavy. As a result, they can be a bit difficult to move and carry. If possible, look for a sniper that is portable and does not compromise on performance.
The CYMA Standard L96 and JG VSR-10 are examples of snipers that are portable and light in weight, making them easy to carry and move.
A sniper usually crawls and moves on the ground quietly and slowly. Hence larger and heavier rifles will make it difficult when crawling. On the other hand, larger rifles might get stuck or held by obstacles, causing sounds and obstructing movement.
Optics
The importance of mounting an optic on your sniper can never be overemphasized. A good optic helps not only to observe and scout the playing field but also hit targets quickly.
While some snipers come with an optic, others do not. The challenge, however, is whether the rifle has adequate provision for mounting the optic. You might need to buy an airsoft sniper that comes with an optic or is compatible with many optics available in the market.
Bolt Action Vs. Spring Sniper Rifle
Bolt action and spring-powered rifles have similar operations as both require you to cock before making a shot. On the one hand, spring-powered rifles require you to cock the cocking mechanism/slide before shooting.
On the other hand, bolt action powered rifles require you to track a handle backward and then forward to compress the rifle's spring before making a shot.
It is worth mentioning that while the spring mechanism makes shooting a bit slow, the bolt action mechanism compresses stronger springs hence resulting in higher feet per second.
Gas Sniper Rifles
Unlike spring and bolt action rifles, gas-powered snipers are very powerful and come with semi-automatic operations. Gas sniper-powered rifles have improved triggers, which help in getting accurate shots.
Even more, they have higher velocity, more extended range, and speed while requiring minor tuning. Unfortunately, most airsoft fields do not allow the use of high-velocity rifles.
FAQ
Are Airsoft Snipers Accurate?
Airsoft snipers are very accurate, provided you are using the proper scope, and it is appropriately calibrated. However, if you are a beginner, your shot accuracy might be poor since you will need first to fire some shots before becoming comfortable using the rifle.
More so, irrespective of the rifle and scope you are using, your accuracy will also depend on your practice level. In all, a sniper rifle that is compatible with multiple attachments will help to improve your performance and accuracy.
What is the Best Airsoft Sniper Available?
It is reasonably challenging to mention a specific sniper or product as the best airsoft rifle is upgraded and does not come out of the box. Nonetheless, it is essential to choose a rifle that comes with multiple upgrades and customization options.
Can Airsoft Sniper Rifle Kill?
If you are new to the airsoft game or are just seeing the rifle for the first time, you will likely think they are real guns. However, it is essential to state that airsoft snipers can not kill.
Airsoft snipers make use of plastic BBs at a lower velocity that is not capable of hurting anyone. Nonetheless, if the guns are not used properly, they can cause injury.
Conclusion
In all, airsoft has now become an entertaining activity for millions of individuals globally. However, your performance and accuracy on the field depend on your training and the rifle you are using.
If you are in the market for the best airsoft sniper rifles, we have reviewed the most potent airsoft sniper rifles available to help you make an easier decision.
We have chosen the Tokyo Marui VSR-10 G-SPEC as the overall winner as it stands out in terms of quality and superior performance. It comes with a dummy suppressor, rail, and adjustable hop-up and is highly upgradeable.
Even more, the Amoeba S1 Gen2 bolt action sniper follows closely behind the Tokyo Marui. This rifle comes with an adjustable polymer chassis, butt-pad, interchangeable handguard, and cheek riser for improved performance.