AMOEBA "Striker" S1 at a glance
The AMOEBA striker S-1 is one of the cutting-edge rilfes from ARES. It comes with several features that make it stand out as a must-have sniper rifle for airsoft enthusiasts. It is made from a combination of both metal and a strong polymer fiber body.
AMOEBA joined the airsoft gun industry in 2014 to manufacture exceptional rifles for airsoft enthusiasts. This is one of them. 
Read our full roundup article for the best airsoft sniper rifles here!
Striker S1 is built to be ready to fight out of the box thanks to its adjustable stock, grip, and cheek riser. Besides, this gun is highly customizable and is available in various colors to suit your style.
Even more, it has a spring-powered assembly that allows you to adjust the rifle to different GPS limits, which makes it easier to cock.

Pros
Its polymer-metal gives it a feeling of being real

The hop-up wheel makes it easy to adjust

Great shot out of the box

There are lots of accessories available

Cons
Lower FPS than other rifles in the category

Expensive stock gun
Things to consider before buying an Airsoft Sniper
Thanks to the increase in the number of manufacturers and models of airsoft sniper rifles, it has become relatively difficult to choose a gun that will suit your style and preference.
Airsoft sniper rifles come with a wide range of features depending on the manufacturer and brand. As a result, it is essential to consider certain things before choosing a gun. Here, you will find some factors to consider before buying an airsoft sniper rifle.
Upgradeability
Although airsoft snipers can perform well out of the box, they are often better when upgraded. It is safe to say that an airsoft sniper's overall performance depends on the level of its upgrade. As a result, it is vital to choose a highly upgradeable gun compatible with several parts in the market. Even more, it should be affordable to upgrade and customize.
Range
Since the rifle is intended to accurately aim at your target, you will need to know the gun range before you choose. Always consider buying rifles with a longer range to better hit your targets in the field. Even though the sniper rifle range is affected by factors such as its barrel construction, hop-up, air seal, spring weight, and weather conditions, a sniper rifle with a more extended range will perform better than those with a shorter range.
Durability
The importance of durability in the airsoft game can never be over-emphasized as the rifle is since the gun will be used both outdoors and in the field. It is pretty frustrating to regularly upgrade or repair your gun due to damage from hits or falls after each battle. Always choose guns made from metal and top-quality polymers with tight parts as they are better suited to withstand harsh and extreme weather conditions.
Features and Benefits
The AMOEBA "Striker" S1 Gen2 is one of the few sniper rifles that comes with great features out of the box. It performs pretty well and is suitable for use by both beginners and experienced airsoft snipers. Here, you will find an in-depth review of the features and benefits of this gun.
Mock Suppressor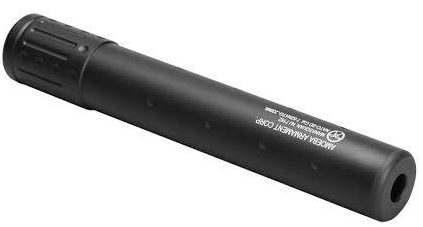 The Amoeba Striker S1 comes with a mock suppressor made from aluminum alloy and is equipped with removable end caps. The removable end caps help users fill the suppressor unit with foam, hence deadening the gun's noise level.
Thanks to its 2cm open thread, the suppressor fits the rifle's outer barrel, giving it a sleek and more secured fit. It is also worth mentioning that the mock suppressor is easy to attach without any form of technical knowledge.
Magazine

This airsoft sniper rifle features a removable magazine unit that can hold up to 45 BBs at a time. The magazine capacity allows you to shoot for a longer period while reducing reloading time.
The magazine is made from polymer and uses 6mm airsoft BBs. It is durable, light in weight, and loaded from the top. Even more, it has caliber markings which give it a realistic look.
Externals


This airsoft rifle has a fluted design and is constructed from a combination of metal and polymer material, making it durable and sleek. It has a length of about 109cm and weighs up to 2.3 kg without the bipod and scope.
There is also a belt holder at the shaft's end and a steel eyelet for attaching a bipod. This gun features a weaver rail located at the top for mounting aiming aids, as well as a 22mm thread for flash hiders and silencers.
Performance
It is pretty rare to find an airsoft rifle that performs so well out of the box. However, the Amoeba Striker S1 Gen2 is one of the few you can find. It is a stock rifle with a firing capacity of between 430 to 432fps using 0.20gm BBs.
Thanks to its AEG spring mechanism, this gun has a short-stroke bolt pull. Although the pull is strong, its bolt travel is relatively small, which makes it barely felt.
Even more, it comes with stock sears that are tough enough to withstand an M150 spring before requiring an upgrade. There is also a screw below the rifle's trigger guard for adjusting the sears' angle until it is flushed with the surface.
Easy Maintenance
Like every other piece of equipment, Airsoft sniper rifles are susceptible to wear and tear due to constant usage. As a result, failure to maintain the gun will cause it to get damaged faster, requiring you to frequently purchase new weapons. You can avoid such a situation by carrying out regular maintenance on the rifle. However, such care can cost you a fortune, hence selecting a gun that is easy to maintain.
One standout feature of the AMOEBA "Striker" S1 is that it is easy to maintain as it offers a cost-free and hassle maintenance procedure. The rifle requires little care and maintenance to keep it in good and working condition.
Ease of Use
You would not want to purchase a rifle that will require some form of technical knowledge or training before you can make use of it. The AMOEBA "Striker" S1 Gen2 is easy to use, although it may require a bit of practice. More so, the more you get used to the sniper rifle, the better your shots.
If you don't want to spend time trying to figure out how to use your newly purchased rifle, this gun is just perfect for you. You can start shooting accurately within an hour once you follow the instructions in the user manual.
Key features of the AMOEBA "Striker" S1 Gen2 include:
Compatible with AEG springs

Highly customizable and upgradeable

It has a metal receiver, barrel, and bolt assembly

Metal accessory rail for optics

It is drop safe

It features an adjustable polymer chassis with a cheek riser, grip front strap, and adjustable butt-pad.

Adjustable hop-up dial

Interchangeable handguard

Ambidextrous magazine release

Direct feed magazine
What others say about the "Striker"
Interestingly, we are not the only ones that share the view that the AMOEBA "Striker" S1 Gen2 is an excellent choice for any airsoft enthusiast. Here are some positive user reviews we found on the internet.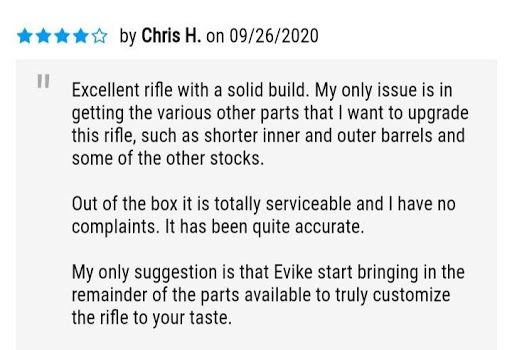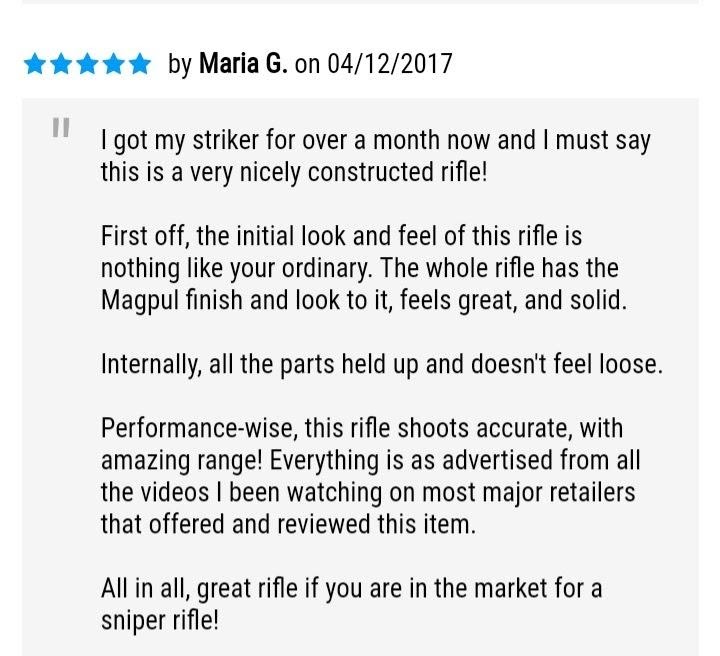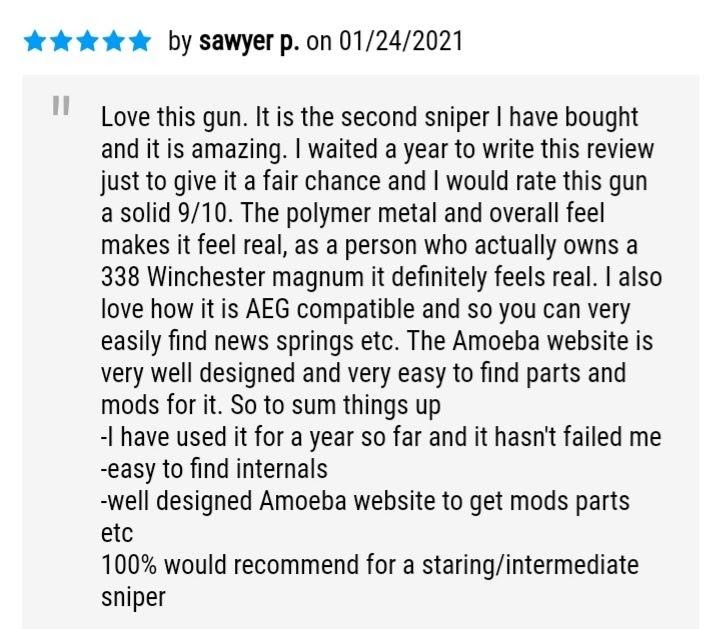 Best Alternative Sniper Rifles
Without a doubt, the AMOEBA "Striker" S1 Gen2 is one of the best airsoft rifles available out of the box as it stands out when it comes to performance, even without any upgrade or customization. However, due to differences in airsoft enthusiasts' preferences and choices, we have reviewed some great alternatives you can consider.


The CYMA VSR-10 is a bolt-action airsoft sniper rifle suitable for those looking for better accuracy and range. It features an aluminum high precision barrel and fires to as far as 100 yards.
This rifle comes with an adjustable hop-up unit that is compatible with several VSR-10 parts, making it easy to upgrade and customize. There's also a sturdy bolt assembly that makes the gun safe from knocks and a weather-resistant trigger box that allows you to use the gun under extreme weather conditions.
Thanks to its 55 rounds magazine, you can take many shots without reloading the magazine often. Although this gun does not come with a bipod or scope, its scope rail is compatible with several types of scope, including the Tokyo Marui VSR-10.


The Novritsch SSG24 is one of the few airsoft sniper rifles designed to provide superior accuracy even without any upgrade. However, it is also worth mentioning that several accessories are available for upgrading the gun when you want to.
The unit features a metallic barrel and receiver, while its stock is made from reinforced glass polymer, which makes it durable. Even more, the barrel is fitted with screws and O-rings to provide maximum consistency.
Furthermore, it comes with a high-quality cylinder and cylinder inserts capable of handling M190 springs. Also, it uses a two-stage trigger and spring guide stopper that applies sufficient pressure to provide the BB repeatable backspin for more accuracy.

The Desert Tech SRS-A1 Covert airsoft sniper rifle stands out in both accuracy and power. It comes with several upgraded features out of the box and a cocking spring system.
This unit comes with an adjustable hop-up that allows you to tune it to your choice, unlike other rifles. More so, its flat-hop design makes the gun have reduced jams.
This product features a polymer injected receiver and stock. It comes with an adjustable cheek rest and butt pad that allows you to select a suitable height and pull length to fit your body.
Conclusion
All in all, if you need an airsoft sniper rifle that combines affordability, modern construction, and durability, then the AMOEBA "Striker" S1 Gen2. This gun is highly customizable and made from a high-quality polymer material and rigid metal, making it durable.
Even more, it is built to be ready to fight out of the box and features an adjustable hop-up unit that allows you to take accurate shots. Another standout feature of this rifle is that it is light in weight and has an ergonomic design that makes it easy to use and maneuverable in the field.
Furthermore, a steel loading nozzle provides enhanced durability to make this rifle an excellent choice for any airsoft sniper.