Pros
It is light in weight.

Highly accurate 

Smooth bolt pull

Sling mounts are compatible with a bipod.

Easy to adjust Hop-up.
Cons
Noisy sling mounts

Right-handed only
Product Overview
If you are looking for the perfect airsoft gun for your simulated gun combats, then the Tokyo Marui VSR-10 G-Spec is just what you need. This rifle is one of the many cutting-edge products from the Tokyo-based airsoft sniper manufacturer Marui. Marui is a renowned brand in the airsoft gun industry and boasts a long history of producing top-quality snipers as far back as 1956.
That said, this rifle is a mini version of the PRO edition and comes with improved cast hop, metal receiver, outer barrel, and sling loops. Other outstanding features of this airsoft gun include its rail stock and aluminum suppressors, to mention a few.
There is also a cheaper, more budget-friendly remake of this sniper rifle – the JG VSR-10, read our full review here.
If you think that this is not what you are looking for, check out our guide to the best sniper rifles – we have looked at and reviewed the Top 5 in our opinion.
Things to consider before buying an Airsoft Sniper
There are several brands and manufacturers of airsoft sniper, making it difficult to choose a suitable product that will meet your needs. Here are a few things to consider before buying an airsoft sniper:
Ease Of Use
This is one of the most important factors to consider when choosing an airsoft sniper. You wouldn't want to buy a rifle that will require technical knowledge to operate. The sniper should have an easy-to-locate and adjust hop-up.
Also, the rifle should have its parts readily available and easy to repair in case of damage. Left-handed users will need to consider buying either an MP5 or AUG-type rifle as snipers are ambidextrous.
Upgradeability
Generally, an airsoft sniper straight out of the box may be suitable. However, they are better when upgraded. Upgrading a sniper gives it a more extended range, more accuracy, and consistency.
It is essential to buy a rifle that allows you to upgrade several parts such as the bore, hop-up, trigger, sears, piston, spring, and spring guide.
Weight
Some rifles are long and heavy, which makes it difficult to move, carry and maneuver. Consequently, you will need to buy a sniper that is portable and easy to carry.
Construction
The materials and construction of an airsoft sniper play a significant role in determining its efficiency. The best airsoft snipers are made with light fabrics and a combination of both metal and top-quality polymer. 
Features and Benefits
The Tokyo Marui VSR-10 G-Spec comes with several features that work together to deliver exceptional performance. Here, you will find a detailed review of the main features of this sniper rifle.
Externals
The Tokyo Marui VSR-10 G-Spec has a unique, compact, and attractive external body. With a weight of about 1.9kg, this rifle is light in weight and easy to carry on the field. Also, it is 1.10m long, excluding the suppressor and other attachments hence easy to move around.
Compared to other ACM M4S made from metals, the VSR-10 G-Spec's bipod and scope are lighter. Besides, this gun feels lighter and smaller when used, which makes it suitable for those who love light guns. It is worth mentioning that its zinc parts and components are either chemically treated or anodized. 
Stock
The stock of the VSR-10 G-Spec is made from rigid ABS plastic with tiny seamlines. It has a refined matte finish and some front light bits that make it stylish and durable. You will also notice that it has a butt plate made from rubber. Although it is poorly attached, the stock's overall quality is good.
Rail
The rail of the Tokyo Marui VSR-10 is made from zinc and helps to hold parts together. Interestingly, the rail is strong and durable, so you wouldn't need to bother about getting warped or broken.
The bolt handle, safety lever, and end cap, like the rail, are also made from zinc and don't break easily while their seam lines are almost invisible. The bolt handle is comfortable and can rotate to up to 60 degrees without interfering with its optics, thereby allows you to smoothly and conveniently cock the sniper.
Also, it has a top-quality casting that won't cause any harm to your hands, which allows you to use the sniper for an extended period.
Trigger & trigger guard
The Tokyo Marui VSR-10 G-Spec features a top-quality trigger made from cast zinc with seam lines that are bigger than other parts. Although the trigger's sides are a bit sharp, they are not harmful. The trigger feels cheap on bare hands, unlike the beveled ones; however, it feels better with gloves.
On the other hand, the trigger guard is made from a flexible and cost-effective ABS, which is robust enough to absorb shock but likely to break if the gun drops.
Misc
It is worth mentioning that all screws of the Tokyo Marui VSR-10 G-Spec are made from machined steel with deep threads, which makes them less likely to strip. Its external hop adjuster is made from bent steel and connects into place with ease.
The internal hop features a plastic construction that covers all the internal sections of the airsoft sniper. Even though it is a bit sensitive to clicking and can knock off quickly when crawling, there is a tape on the adjuster that keeps it secured while crawling.
Sling mounts
The ring and sling mounts of this airsoft sniper are made from cast zinc, while the screws are machined steel. Unfortunately, the slings mounts are one of the most fragile parts of this sniper as they shatter and break easily. So, if sling mounts mean a lot to you, you will need to consider upgrading your riffle.
Outer B

arrel
This sniper rifle 12comes with a stylish, robust, and rigid outer barrel with aluminum construction. Another feature that makes the outer barrel stand out is its barrel-shaped bull construction, making it fashionable. Unlike the receiver, the painting on the outer barrel lasts longer and has the suppressor threaded directly into it.
Suppressor
The Marui VSR-10 G-Spec's suppressor is equipped with a sound deadening mechanism consisting of four foam pieces. The foams help reduce the gun's sound when shots are fired, making it almost totally silent when you are up to 15 meters afar. Besides, its machined and rolled aluminum construction makes it durable and sturdy. It is worth mentioning that you might need to adjust the foam for improved performance occasionally.
Receiver
This airsoft sniper is equipped with a receiver that has an aluminum alloy and zinc construction. It has screws that help hold the gun's rail easily on the strip; however, always ensure you use the thread lock each time you want to remove the rail.
That said, although the rear screw, like other metal parts of airsoft guns, sintered, it will not disintegrate due to a knock or fall. Overall, the receiver is nicely cast, thereby preventing the bolt from scraping easily.
Furthermore, the painting needs improvement as it comes off easily when scratched. The receiver is very customizable; nonetheless, if you must use a PDi cylinder, ensure it is a bore-up type since its diameter is designed to perfectly fit the receiver of the Tokyo Marui VSR-10 G-Spec sniper.
Key features of the VSR 10 G-Spec include:
Improved cast hop-up.

303mm by 6.08mm Brass inner barrel.

Rail stock

The ergonomic bolt handle can do up to 60 degrees movement hence preventing it from hitting the optics.

Foam-filled suppressor to the silent sound 

Rolled, machined, and shorter aluminum outer barrel.
Social Proof
We have also taken out time to search all through the internet to find other user reviews. Interestingly, we have also found lots of positive reviews from those who have used this sniper. Here are a few of those reviews: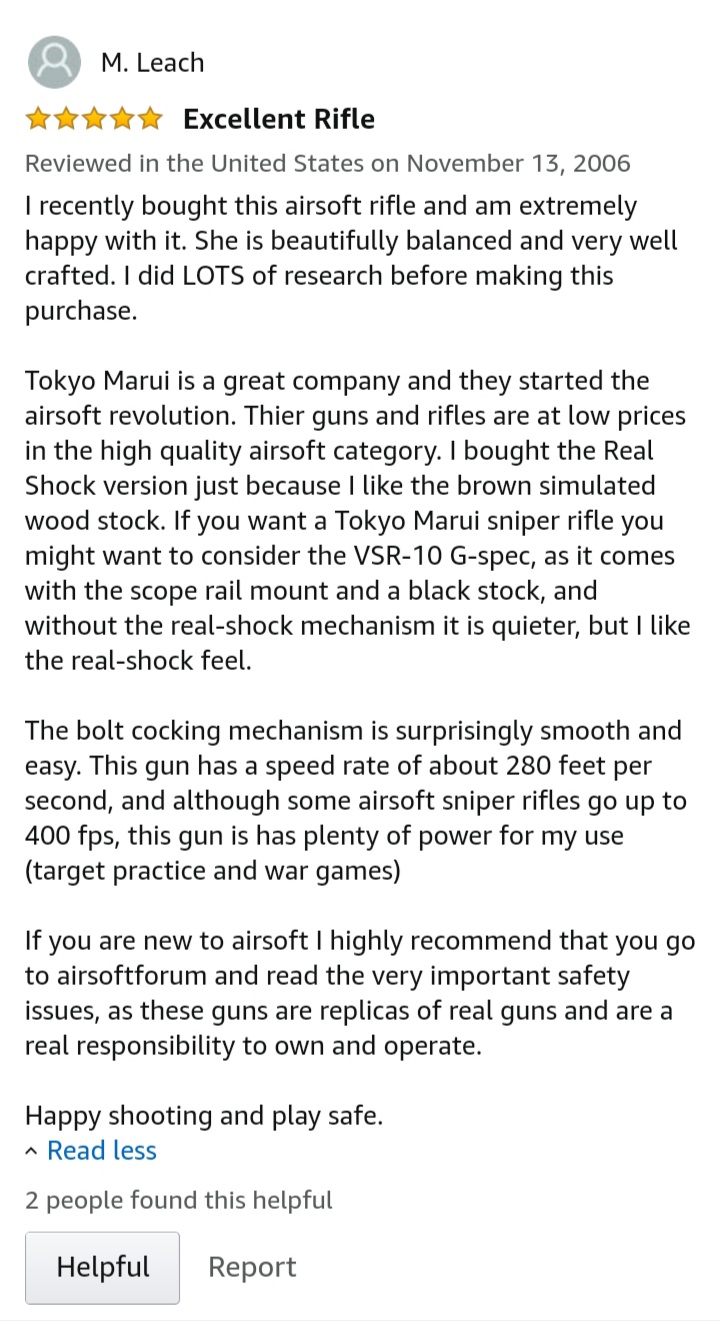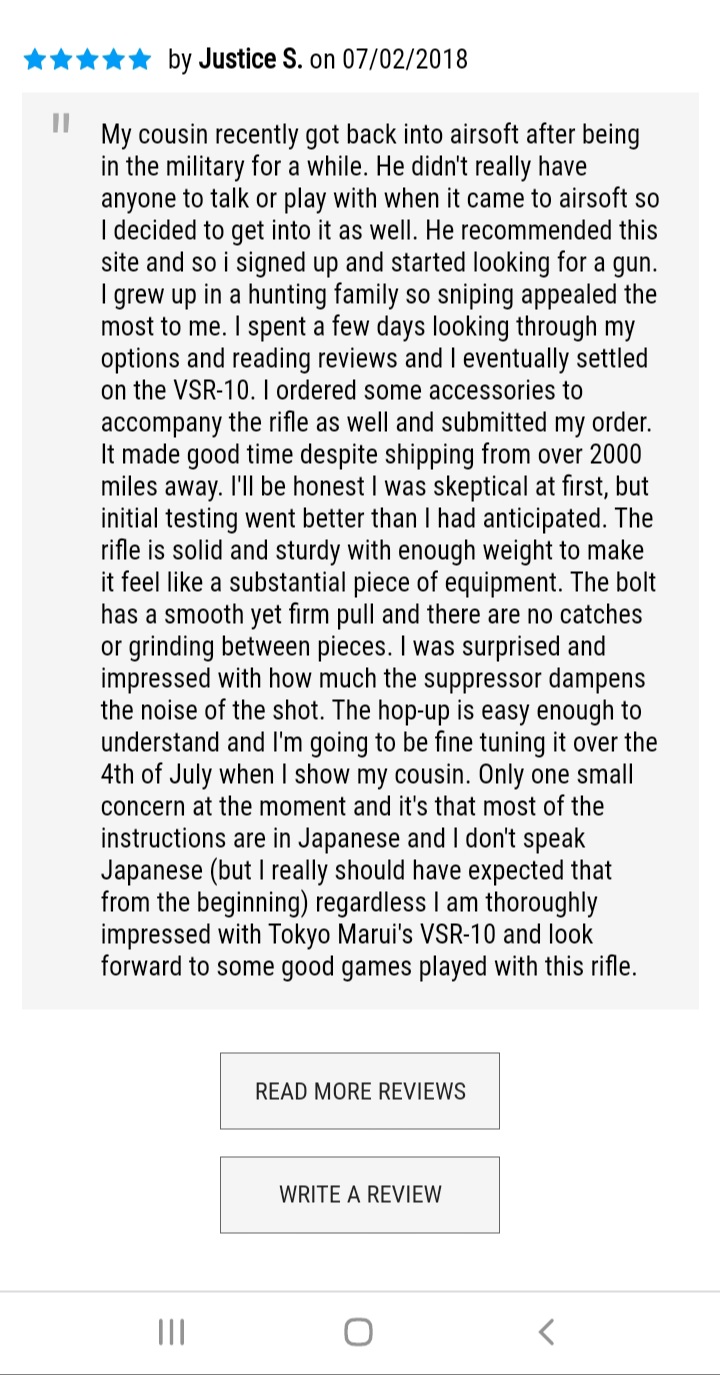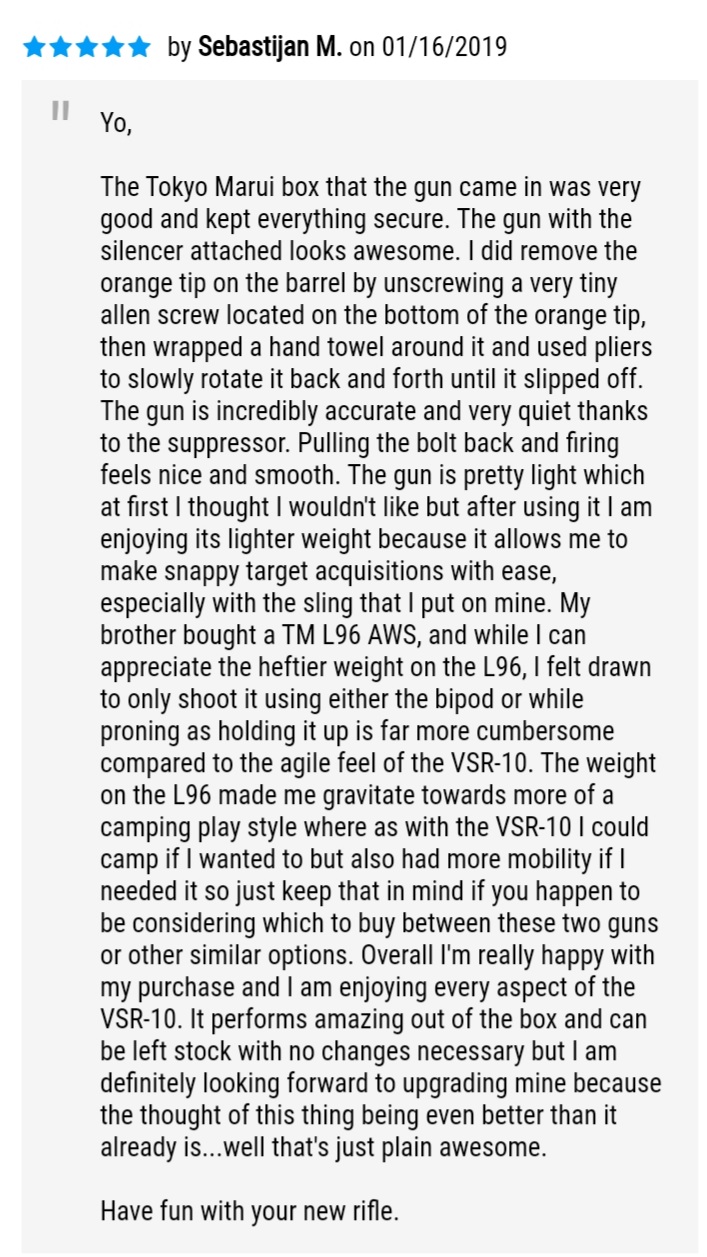 Alternatives
Although the Tokyo Marui VSR-10 G-Spec offers amazing features and boasts many years in the industry, it might not meet some airsoft enthusiasts' preference. As a result, here are some alternatives you can consider.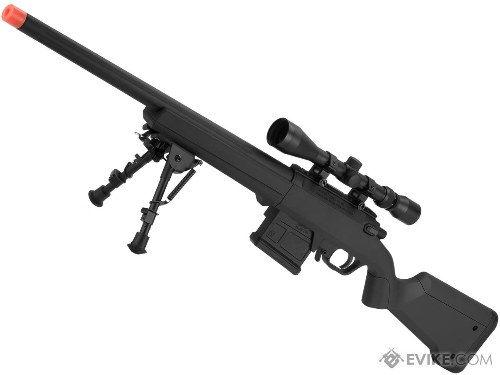 This airsoft sniper is sleek and features a polymer chassis making it stand out in performance. It is spring-powered and suitable for both new and experienced players and is available in several color options.
The Amoeba striker can work with AEG springs and accept a wide range of market accessories, making it easy to customize and upgrade. Its trigger, barrel, receiver, and bolt are made from metal and easily adjusted.
Even though it is a bit pricey, its 45 round capacity, Allen keys, and cleaning rod, among other features, make it a great alternative to the Tokyo Marui VSR-10.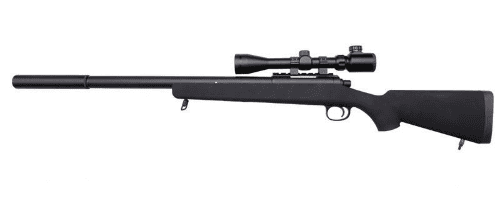 The JG BAR-10 is one of the most popular and longest-running airsoft snipers. It is compatible with parts of most rifles, thus making it easily upgradeable to suit your preference. 
This airsoft rifle features a metal trigger and aluminum cylinder for better compression and accurate shots. It is relatively affordable and suitable for beginners and those who want to try out the sniper's role.
This airsoft sniper comes with a bullpup-style construction with upgraded features. It has a short barrel and an adjustable hop-up that allows you to tune it more than other rifles.
Thanks to its improved piston, this rifle offers better compression. It is equipped with polymer injected receiver and stock and suitable for both left and right-handed players. Although it is a bit expensive, it is a powerful, accurate, and high-quality riffle rifle.
Conclusion
Overall, if you are looking for the best rifle that will make you stand out in the field during airsoft games, then the Tokyo Marui VSR-10 G-Spec is perfect. This sniper is easy to use, highly upgradeable, light in weight, and accurate.
Besides, this airsoft sniper is ideal for both beginners and experienced players. It features an improved hop-up, rail, and an ergonomic handle that can be adjusted to prevent it from hitting the optics.
If quality and superior performance mean a lot to you, choose the Tokyo Marui VSR-10 G-Spec.