JG VSR-10 at a glance
The JG VSR-10 / BAR-10 is, without a doubt, one of the best stock sniper rifles available in the market for those who are working with a tight budget. This rifle is an affordable replica of the popular Tokyo Marui VSR-10 sniper and has several customization options.
JG, which stands for Jing Gong, is a renowned and prestigious brand in the airsoft sniper industry. The China-based company started production in 1968 to promote the spirit of dedication and precision. Interestingly, JG has continued to keep that legacy, and the JG VSR-10 / BAR-10 represents it.
The JG Bar-10 is a stock model rifle and is very cheap, thus saving money that can be used to purchase other aftermarket parts for upgrading the rifle. This helps to improve the gun's performance and value. Some of the outstanding features that make this airsoft sniper standout include its optics rail, bipod mounting lug, aluminum alloy trigger assembly, sling mount, and many others.
If you think that this is not what you are looking for, check out our guide to the best sniper rifles – we have looked at and reviewed the Top 5 in our opinion.

Pros
It is relatively affordable.

Lightweight

It is highly customizable and upgradeable.

Variable scope settings

Adjustable hop-up unit

A sturdy aluminum trigger assembly

Robust polymer stock

It had a bipod mounting lug.

Cons
Its hop-up unit is a bit stiff.

Some users complained that the spring wears off easily.
Things to consider before buying an airsoft Sniper Rifle
The airsoft sniper rifle market is gradually becoming saturated. As a result, several manufacturers and models are available, making choosing the right gun a bit tricky.
Nonetheless, here are a few things to consider before buying an airsoft sniper:
Upgradeability
Airsoft snipers out of the box are, most of the time, not the best until they are upgraded. The performance of an airsoft gun depends greatly on its upgradeability. 
You must ensure you look out for rifles that come with plenty of upgradeability options. Not just that, they should also be both affordable and compatible with different parts.
Optics
The importance of being able to mount an optic can never be overemphasized. However, this will depend on the provision made available for mounting one. While some rifles come with an optic out of the box, others don't. 
It is necessary to consider buying a gun that either comes with an optic or has a provision for mounting one.
Material
The materials an airsoft sniper rifle is made from greatly determine its weight and durability. The best guns are made from a combination of metal components and high-grade polymers, making them lighter and more durable.
Even more, since the gun will be used in the field, it is likely to experience hits and falls. As a result, you need to purchase a robust gun to withstand such falls without damage. 
Features and Benefits
The Tokyo Marui VSR-10 G-Spec comes with several features that work together to deliver exceptional performance. Here, you will find a detailed review of the main features of this sniper rifle.
Performance 
The performance of the JG Bar 10 is quite impressive out of the box. However, you can improve the gun's overall performance by upgrading its parts. It has a muzzle velocity of between 370 to 400 fps and a BB of 0.25g.
Well, that's not all, this product comes with a range of about 190 feet which makes it possible to pick other players even from a distance. Additionally, the gun's range can be increased to about 500 fps if the right upgrade is carried out.
The Scope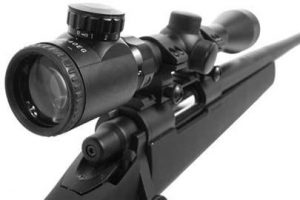 This product features a standard scope with already installed batteries and a lens protector, which protects the scope from damage while in the field. It is a 3 X 9 illuminating scope with 11 different illumination settings; hence, you can always choose a setting to best suit you, whether in indoor or field settings. 
One unique feature of this rifle's scope is its ability to lighten up dark areas, thus providing the sniper with clearer vision and better accuracy. Nonetheless, you will need to add a scope mount with double scope rings to fit in better.
Butt Pad and Hollow Stock
This product comes with a rubber butt pad that provides adequate grip when placed on your shoulders. Even more, it further makes the firm gripping of the airsoft gun easier.
There's also a hollow stock or cavity that makes storage of things easier. The cavity can be used to store items like lubricants and other tools that come in handy when trying to fix a jammed gun when in the field.
It is worth mentioning that if you must carry things in the hollow stock, there is a need to pay for it using a piece of cloth to prevent the items from moving. You wouldn't want to keep hearing those rattling sounds when you are firing rounds during a game.
Additionally, if you like to carry heavy guns, you can also stick things in the cavity or hollow stock to increase the gun's weight.
Outer Shell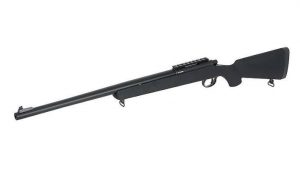 The outer shell or outer body of the JG VSR-10 / BAR-10 is made from a strong polymer. This polymer plastic is known for its outstanding strength-to-weight ratio. This means that the rifle is tough enough to withstand unavoidable hits and falls in the field.
Not just that, the polymer is cheap, which further helps to ensure that the manufacturers can keep the gun's cost low. Besides, since plastics are poor heat conductors, you won't need to wear gloves before using the gun in harsh weather conditions.
Another standout feature of this rifle's outer shell is that it is coated with a rubber finish to increase friction and give it a comfortable and ergonomic feel and grip when handling it.
Furthermore, the outer shell is designed to have a firm and comfortable grip even when your hands are sweaty or raining outside. As a result, the gun won't slip out of your hands during active play. 
Additionally, the rubberized finish of this rifle also prevents it from being reflective under sunlight. While some guns reflect sun rays when exposed to natural light, thus betraying the player, this gun will not let you down that way. It also makes the airsoft sniper rifle quiet and blending in easier.
Sling Mount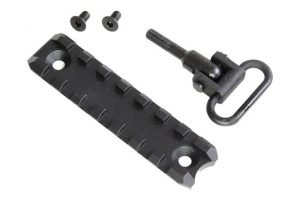 The JG VSR-10 / BAR-10 is equipped with dual sling mounts located on the stock's lower end. Although this product doesn't come with a sling out of the box, it is compatible with several market slings.
The sling mount is made from metal, making it strong, durable, and compatible with other top-quality slings.
Hop-Up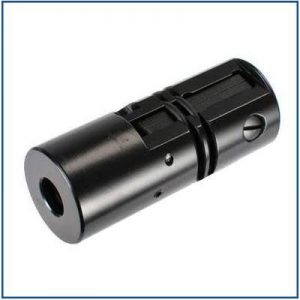 This airsoft rifle is equipped with an adjustable hop-up unit. The hop-up unit is a compact metal tab located on the left of the rifle's stock. It can be slid both up and down, and you can set up the hop-up by pushing it toward the back. 
On the other hand, if you want to set it down, you will need to pull it toward the gun's barrel.
Magazine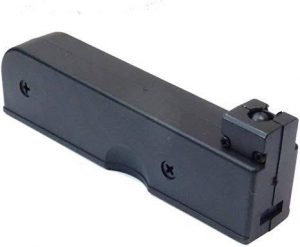 This gun is equipped with a 30-round standard magazine that conveniently fits into its stock's lower area. Nonetheless, it is adequately concealed and almost unnoticeable, particularly for those who don't know how to fix a magazine.
One exciting feature we love about this rifle's magazine is that it fits in a way that its flush sits against the gun's surface. Also, its lower body does not interfere or obstruct its handling.
Interestingly, the magazine allows smooth movement of the hand in the gun's body. However, always ensure the magazine locks into place before making shots; otherwise, the magazine might fall off. 
It also ensures smooth hand movement along the gun's body. Make sure the magazine clicks into place before going out on the field. If it doesn't click, it may not be securely attached and could easily fall off.
Lightweight
If you are looking for an extremely light gun without compromising performance, then the JG Bar 10 is just perfect. Thanks to its polymer stock, this rifle weighs only about 5 lbs out of the box. It also doesn't get to weigh so much even after upgrades. 
In all, lightweight guns have several advantages, such as they are easy to carry, easy to move around, and they will not wear you out easily when in the field of play.
Highly Customizable
Airsoft sniper rifles are better in performance when upgraded and customized. Interestingly, this airsoft sniper rifle is highly customizable as it was produced with upgradeability in mind.
Firstly, the JG Bar 10 is a complete replica of the famous Tokyo Mauri VSR-10, making it compatible with plenty of accessories. Thanks to the availability of parts, they are also cheaper on average to upgrade.
Even more, you might be wondering why you should buy a gun only to upgrade it; however, upgrading the rifle allows you to determine its performance. Also, upgrading your gun makes it fitter to suit your needs as you can add those features you need and ignore those you don't need.
Key features of the JG bar 10 include:
Adjustable trigger pulls and breaks.

A top-quality aluminum alloy trigger assembly

Polished aluminum cylinder 

Adjustable hop-up unit

Brass cylinder head and nozzle for a smooth pull 

Rubberized polymer stock

Harris-style bipod mounting lug

Weaver optics rail
What others say about the JG VSR-10
Without a doubt, the JG VSR-10 / BAR-10 boasts amazing features that make it stand out as a suitable choice for those looking for a cheap rifle without compromising on the standard. 
However, beyond paper reviews, we have searched all over the internet to find out what others say about this gun. It is worth mentioning that we found several positive reviews from different customers who have made use of this airsoft sniper rifle. Here are a few of those reviews: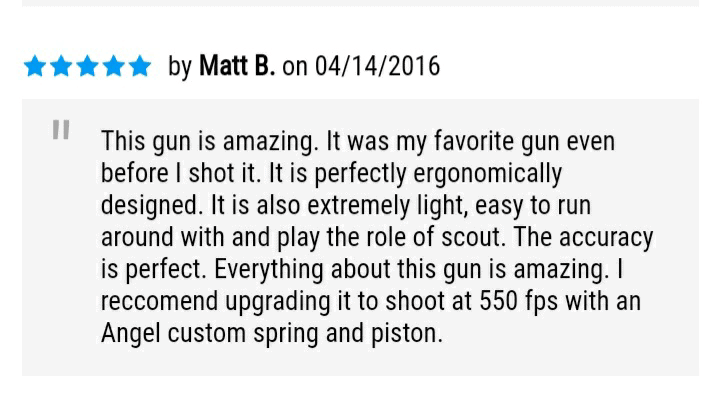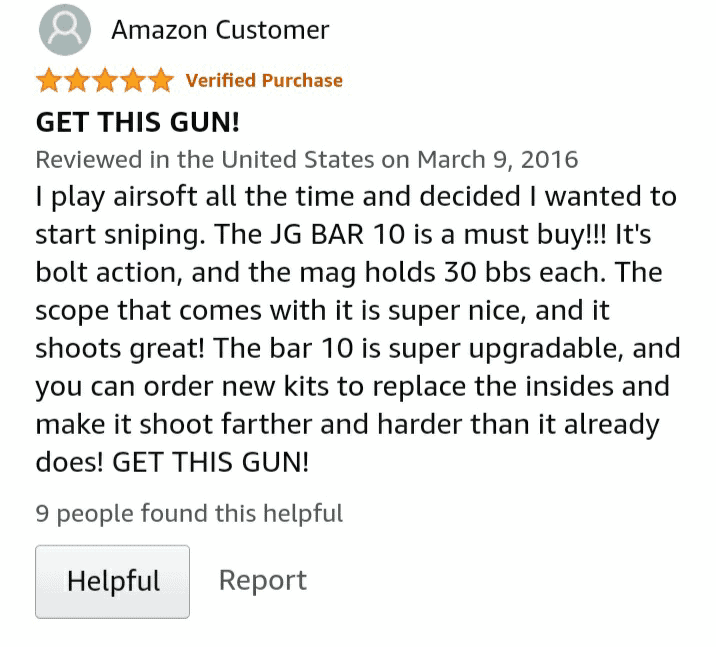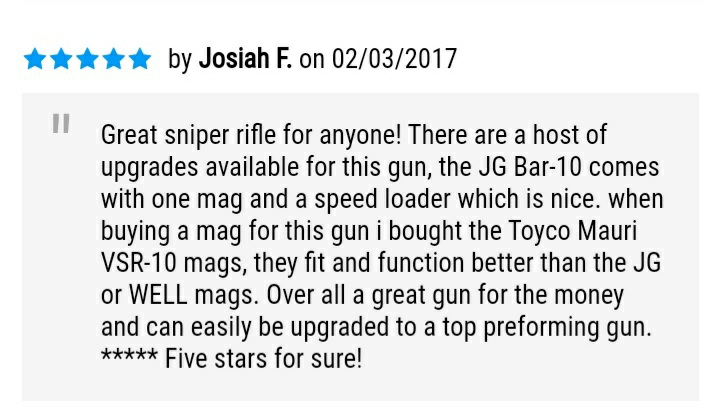 Alternatives
The JG VSR-10 / BAR-10 is ideal for anyone looking for an airsoft sniper rifle that combines affordability, performance, and plenty of customization options. However, if you are on the lookout for other alternatives that have similar features to this rifle, here are a few suggestions you should consider.


The JG VSR-10 replica of this rifle makes it one of the closest alternatives you should consider. It is stylish, highly customizable, and offers great performance.
Like the JG VSR-10, this product features an optic rail for attaching optics and adjustable hop-up. This product comes with an ergonomic stock for attaching a sling and a foam-filled suppressor to the silent sound.
It is worth mentioning that this airsoft sniper rifle is compact and has an attractive body. There's also an ergonomic bolt handle capable of up to 60 degrees of movement, preventing it from hitting the optics.
Overall, with plenty of customization options and standout features, this gun is a great alternative to consider.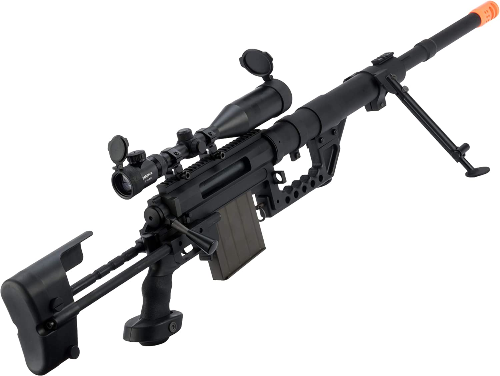 This is a military-grade rifle that features durable and sturdy construction, making it a great outdoor and field play option. It also features a polymer construction which makes it light in weight and stylish.
Thanks to its ergonomic grip, this airsoft rifle provides users with a firm grip. Hence you won't have to worry about the fin slipping out of your hands when you shoot. It comes with a drop-safe magazine and a foldable metal bipod that can be folded when not in use.
That said, this rifle is very upgradeable and compatible with several market parts. It is spring-powered, which makes shooting easy and fast with minimal effort.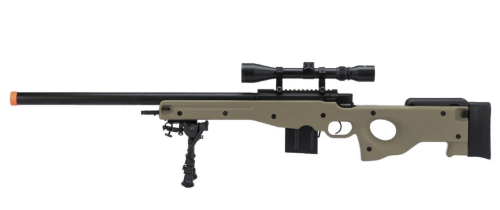 The CYMA L96 is a very affordable airsoft rifle and offers lots of customization options. It comes with several features that make it a suitable alternative to the JG VSR-10. Some of the bolt action mechanism features include consistent power, range, accuracy, and durability.
This product features a polymer construction that makes it both stylish and lightweight. Its stock helps provide improved comfort and stability, while its stainless steel cylinder provides smoother, more consistent, and more powerful cocking actions.
Additionally, this gun comes with a top rail for attaching your optics and front and rear sling mounts to fix your sling.
Conclusion 
All in all, the JG bar 10 is unarguably one of the best stock airsoft sniper rifles available. It is affordable and comes with upgradeability options that make it suitable for a gun to upgrade gradually. 
That said, it is a lightweight gun, thanks to its polymer construction. It boasts several features, including a variable scope setting, adjustable hop-up unit, sturdy aluminum trigger assembly, robust polymer stock, and bi-pod mounting lug, to mention a few.
If you are looking for a quality airsoft rifle at an affordable rate, click here to purchase the JG VSR-10 / BAR-10 airsoft sniper rifle.